The adoption of a coral, source of economic value!
Coral Gardeners is an association based in Moorea, at the antipodes of the metropolis. Its team is made up of 27 members, including 7 "gardeners", we will explain later, all based in French Polynesia. It was founded in2017 by Titouan. Marie-Céline Piednoir, head of communications for the association, wanted to answer our questions about Coral Gardeners. Interview.
Feat-Y: When did you found Coral Gardeners and why?
Marie-Céline Piednoir: Coral Gardeners was founded in 2017. Our founder, Titouan, went surfing and saw the white corals under his feet. He learned about this bleaching and understood that if we did not act, this ecosystem would die and impact all the other ecosystems on our planet. He decided to create Coral Gardeners to save the reefs.
Feat-Y: Your actions are part of a holistic approach to fighting climate change, protecting coastal areas against erosion, preserving the economy of the islands, supporting people's livelihoods, to fuel the process of scientists and finally preserve a quarter of the marine species that live in this biotope. Concretely what do you do and what do you propose to restore the coral?
MC.P: We have two main axes: awareness and coral restoration.
From an awareness point of view we want everyone on this planet to know what a coral is and the importance that coral reefs have on our planet. So we organize conferences, we go to schools, and we use social networks to spread this message and our mission. We want everyone in the world to be able to act. That's why we set up the coral adoption system. Anyone can go to our website in the adoption section and adopt one or more corals. Thanks to this adoption, our coral restoration team has the means to plant corals and take care of them (monitoring, analyzes, cleaning, etc.). The person who adopted a coral receives, a few days later, a certificate of adoption of one of our coral with a precise geolocation!
We also have a whole section of coral restoration, with our teams who study corals and replant them in different places on the island. We collaborate with renowned scientists to constantly develop our techniques and have a real impact.
Feat-Y: Have you developed partnerships, relationships, with firms, local communities, in mainland France or in the Pacific, or even foreign countries, in relation to the protection of coral?
MC.P: Yes we work with local and international partners! For example at the local level with Air Tahiti Nui, the Post and Telecommunications Office, Pearl Romance and Tahiti Tourisme. Internationally, we have worked with Got Bag, Turquoise Lane and are currently negotiating with other partners. Our policy on the subject is to limit the number of partners as much as possible and to select them according to their environmental values. We want to create partnerships with Media / NGOs / Companies that respect our values, that is to say entities that have a positive impact on our environment. One of my colleagues, Clara, is in charge of partnerships. When we have requests, she analyzes the proposal and if she sees potential there, she begins to analyze the company,
Feat-Y: The "ambassadors" of Coral Gardeners include divers, marine photographers, or personalities like the sportsman Florent Manaudou. In what concrete ways do they help you?
MC.P: Our ambassadors are real assets to raise awareness. They help us spread our message and bring as many people as possible around our cause. For example, we collaborated with the top model Alexis Ren to raise funds through social networks and this fundraising generated 92,000 dollars (84,586 euros).
Feat-Y: With the pandemic situation, but also the observation of global warming, does that give you arguments for your associative work?
MC.P: For the moment no direct economic benefits. The media and the audiences are concentrated on the information around the Covid-19 and on health initiatives, which is completely normal and necessary. We hope that after this crisis the world population will realize the need and especially the feasibility of rethinking our lifestyles and consumption to save our planet and our species. This is where we hope to play a role in spreading our message around coral reefs and their need. In addition, the size of economic activity generated around or by coral reefs is estimated at 10,000 billion dollars (9,200 billion euros) per year.
Feat-Y: What are your goals for 2020 and for the whole decade?
MC.P: In 2020 we will use a new restoration technique, with super corals! We will tell you more in the future. We also want to develop our entire network of ambassadors. Everyone can help us and be considered an ambassador, not just "stars"! Over the decade we would like to take on a more international dimension with branches all over the world.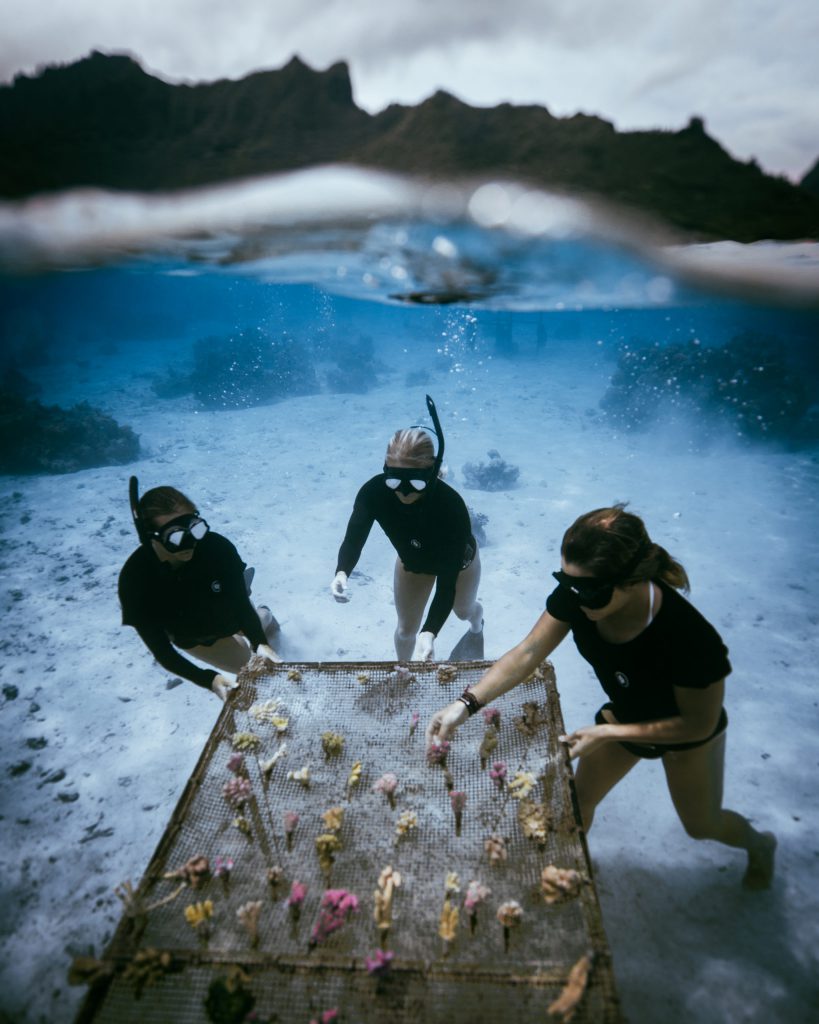 Feat-Y: If you were a movie, what would it be?
MC.P: Chasing Coral by Jeff Orlowski.
Feat-Y: If you were a song, what would you be?
MC.P: "Follow the sun" by Xavier Rudd
Feat-Y: If you were a maritime species, what would it be?
MC.P: Coral? Come on, let's change, dolphin.
Feat-Y: If you were an island, which one would you be?
MC.P: Moorea!
Feat-Y: If you were a plant, what would it be?
MC.P: Palm tree.
https://www.instagram.com/p/B-5JqdeAO57/
BY Jonathan Baudoin / FEAT-Y