His name is associated with major brands, fashion shows, stars that he has been dressing for decades, but Jean-Charles de Castelbajac cultivates a passion: Street Art, with showrooms in cities around the world from Nice to Los Angeles, from Korea to Japan through Saint-Paul de Vence.
It is unexpected, even improbable like the supports on which he draws, since his meeting with Keith Haring, Jean-Charles de Castelbajac sows his drawings a little everywhere, at random of his travels. And the time of a drawing, he turns his back on the world, he who is so often in the spotlight. A moment of humility, where the artist renews his anonymity, indulging in what he describes as a perpetual exercise, by which he improves his line, progresses, questions himself, with the joy of surprise at the end.
His first drawings are thirty years old and are at the Gare du Nord in Paris. Jean-Charles de Castelbajac was then the artistic director of " Faim de siècle ", a newspaper sold in the street by the homeless and that he accompanied. Very quickly, this new art, which nevertheless has its roots in the history of mankind, seduces him.
The ephemeral side fascinates him and brings him closer to the plastic artist from Nice, Ernest Pignon Ernestprecursor of Street Art, whose technique consisted in sticking on the walls of the cities, images drawn with sanguine, then silk-screened. If Jean-Charles de Castelbajac prefers ink at the beginning, he will very quickly turn away from it: " I used to draw with charcoal, but the result was not always up to my expectations, because the ink tended to dilute when it rained. So I adapted to the medium. I chose chalk, the mineral calling the mineral and then the "chalk it moves, it's alive, it's an ectoplasm.
The chalk evolves and blends well with the chosen supports, while retaining its ephemeral character. Supports as far from art as a rainwater drain or an electricity meter door can be. So many challenges for the artist who is working to bring poetry and humanity in disembodied places and to make them more poetic and humane. "I have lived through two centuries of magnificent moments, but in the last ten years or so, things have changed." The attack in Nice will inspire him in this city of many drawings.
Two great masters: Basquiat and Haring
An artist of eclectic talent, his sources of inspiration are rooted in world art. He summoned Cocteau, Villard de Honnecourt, Calder, Dufy, all of whom continue to inspire his creation and whom he affectionately describes as "an army of shadows".
But his shadow gallery would not be complete without the two plastic artists who encouraged him to take the plunge, two artists with a truncated destiny: Jean-Michel Basquiat who devoted a portrait to him on his motorcycle, but no doubt closer to him, through the choice of colors and shapes, Keith Haring: "he came into my life. Like me, he was a follower of the accumulation process and he wanted me to create a teddy bear coat for the singer Madonna. One day he came to my house and started drawing and painting everywhere. When my two sons, then aged 4 and 7, arrived from school, he took out large sheets of paper and began to draw exquisite corpses with them".
His meeting with Haring was a saving moment, as the artist and his enthusiasm freed his hand and his stroke, while allowing him to open his eyes to urban cultures in all their forms.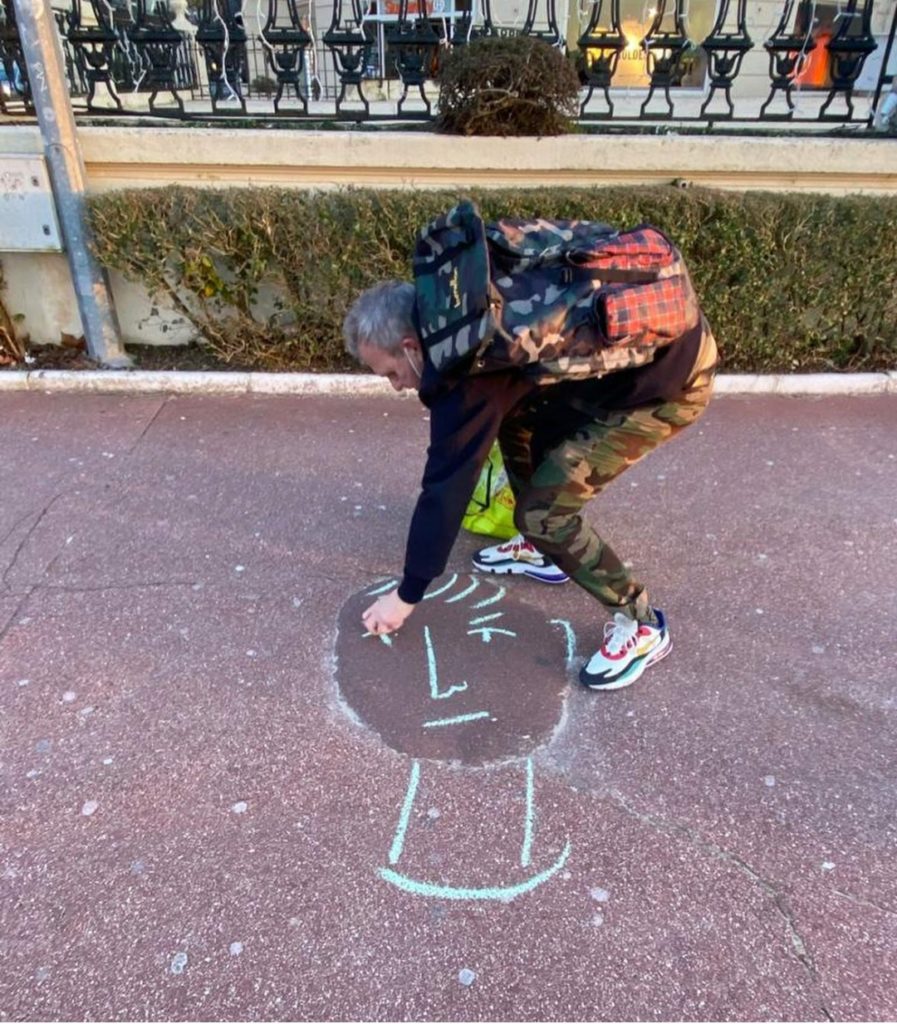 "Petit Poucet, little past "
With more than a thousand drawings in the world, drawing remains its guiding thread and connects it to art by an invisible umbilical cord, making it, despite the centuries that separate them, a worthy son of Villard de Honnecourt who brought out the drawing « de la sphère intimiste pour le manifeste. »
These figures of angels that he sows, like the little Thumb and his stones, are reminiscent of the figures painted by Cocteau. They maintain a link with the invisible, with his dear departed ones and are nevertheless addressed to those who remain and who contemplate them. As he himself defines it, it is"a minimal gesture with immense consequences", an act of faith, which this militant Christian defined as an act of mercy, and whose angels have given a little girl a new taste for life.
Next June, a book containing 600 of his drawings will be published. An opportunity for graphic art enthusiasts to immerse themselves in Pop Art, which continues to influence the designer Jean-Charles de Castelbajac, whose creations always echo an artistic movement.
Lea Raso Della Volta