Driven by ever more enlightening developments, the fashion world nevertheless retains its place among the world's most polluting industries. And for good reason: you can't improve an established system in a few years. But with positive initiatives, hope is allowed, and vegan leather is one of these promising innovations.
Indeed, if the leather industry is part of the most impacting production methods on the planet, it is now time to think about alternatives. More ethics, less animal cruelty, all without denigrating quality! The balance is thin when it comes to building the future of responsible fashion. It is in this perspective that vegan leather finds its place, and allows to rebuild consumption habits in terms of fashion. A material full of promises, which it is appropriate to make a small tour of horizon to master the contours!
Vegan leather, what is it?

To properly talk about vegan leather, it is necessary to first state a truth: vegan leather does not exist! Indeed, it is simply a formula, marking in the mind the interest of using other materials than animal materials to produce our bags. Because putting together two terms like "leather" and "vegan" is simply an oxymoron, and the association of the two is, by definition, impossible. In fact, leather being an animal material, its naming is regulated by the French consumer code. It is therefore not possible that vegan leather exists, and marketing has a small role to play in this.

Some brands therefore seize the vegan label to highlight another material than leather, while resembling it (more or less strongly). A "vegan" product is, according to the English light, a product whose militant dimension of protection and defense of animal rights is proven. Logically, a vegan leather product is a product whose manufacture has not participated in the exploitation of animals, and which is, quite simply, not leather.
In addition, it is important to distinguish between vegan leather and vegetable leather. The latter is a form of transformation of leather, supported by vegetable tannins. A vegetable leather is an animal leather, beware of confusions!
The fact remains that "vegan leather" remains a catch-all word, whose interest lies in the appearance it carries, associated with the manufacture in accordance with the vegan principles.
A world where everything is to be invented and where, therefore, everything begins to be invented!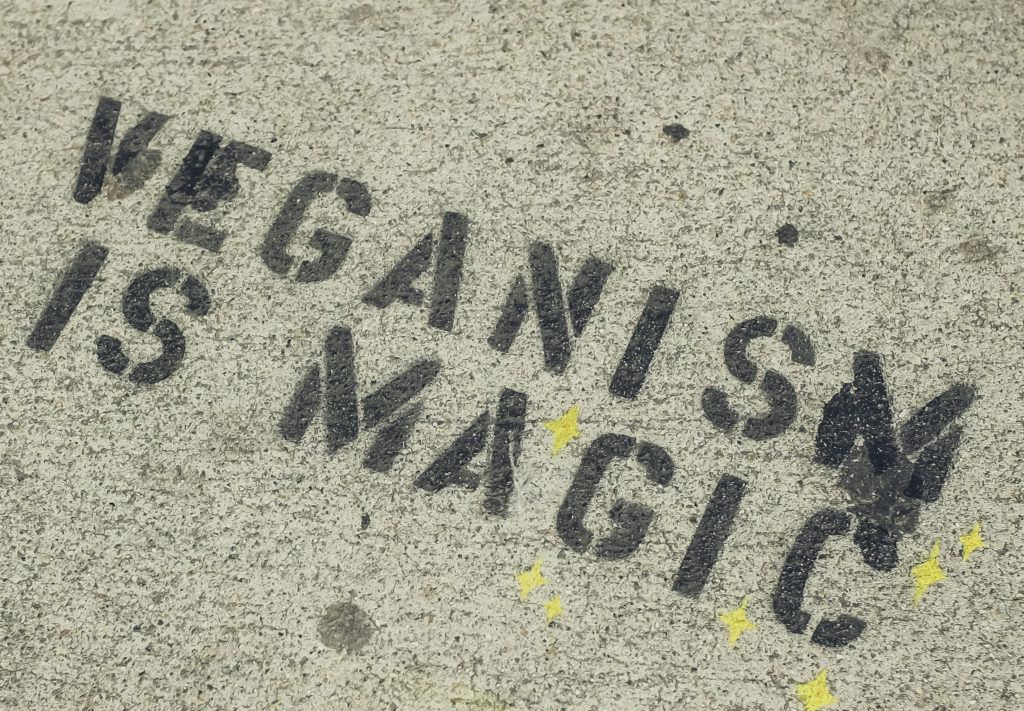 The various vegan leathers
Now, the contours of vegan leather are better traced, but the question of the material can legitimately be asked. It is in this perspective that the world of fashion is constantly reinventing itself, offering ever more innovative fibers, even if it means revolutionizing our behavior.
Vegan leather can be made from recycled synthetic materials, such as PVC (or Skai), or Lorica. Very often, this "imitation leather" is produced from synthetic fibers trapped in a resin (sometimes petroleum). The point of attention here lies, for the consumer, to verify that the product was neither conceived, nor tested on animals. Because it is possible!
But it is above all the vegetable materials which hold the attention of the consumer today, when it is about vegan leather. The reason? They are innovative, ecological, and very promising! Among the most common vegan leather from plants, we find :
– Piñatex (pineapple leather): developed by Dr. Carmen Hijosa, this material is made from pineapple leaves, which are usually thrown away. The idea? To replace more than 50% of the global production of animal leather, without having to plant any pineapple. Inspired by a traditional Filipino garment, Piñatex is a flexible, resistant and biodegradable material (not 100%!). A limited environmental impact, a resemblance with leather, it was enough to interest us!
– Apple Skin: From the English "apple skin", it seems that everything is said! This leather is, indeed, formed from recycled fruit fibers, for a production as ecological as possible, and 100% vegan. Concretely, it is a question of recovering the skin of apples, then of drying it, and of reducing it to powder, before coagulating it and coating it (in particular with polyurethane). The result is that of an animal leather, whose properties are similar, but the impact, quite different.
– The Muskin: Made from mushroom heads, the Muskin is a biodegradable and non-toxic material, which is close to the look of suede. Its little extra soul? It does not retain moisture and can, therefore, adapt very well to both bags and shoe soles. A certain idea of vegan happiness!
– Eucalyptus leather: Created in 2014 by a German entrepreneur, eucalyptus leather is made from eucalyptus leaves, purchased from farmers. It has this advantage of being very resistant, and guaranteed without pesticides. Regarding the shadow areas, eucalyptus leather is still quite uncommon, but full of promise!
– Grape leather: Used by brands like Veja, grape leather is, logically, a material made from grape waste. In other words, grape marc. Skin, stems, seeds, all this is mixed to form a material similar to animal leather. Between resistance and aestheticism, grape leather is perhaps the future of vegan leather.
Limits of vegan leather
If we find other types of vegan leather over the years, it is important to keep in mind that vegan leather can also be a selling point, and does not always respect the specifications of such a material. It is therefore essential to know how to spot logos such as "PETA-approved vegan", "animal-friendly", or "The Vegan Society". These labels guarantee that the products have no link, near or far, with animal exploitation.
Thomas Louis