Imagine driving with a little Jiminy Cricket on your shoulder. That's what the mobile app eiver, launched in June 2019, offers. The principle is simple: the less you accelerate, the less you decelerate, and the more points you get! Points that turn into gifts from around thirty eco-responsible, digital partners, or those linked to the new AutoTech. Today, nearly 40,000 drivers have played the game. Christophe Meunier-Jacob, co-founder of eiver, tells us more.
Feat-Y : Where did the idea for this application come from?
Christophe Meunier-Jacob : I am committed to improving performance through digital tools. For example, I am used to working out with an application that records my shopping on my mobile. At the same time, I am also sensitive to our environmental impact when we travel by car. I know that many French people have no other choice than to use this means of transportation. So I thought of a solution to bring these two subjects together: using an application to reduce the carbon footprint, fuel consumption, reduce the risk of accidents and therefore improve driving comfort.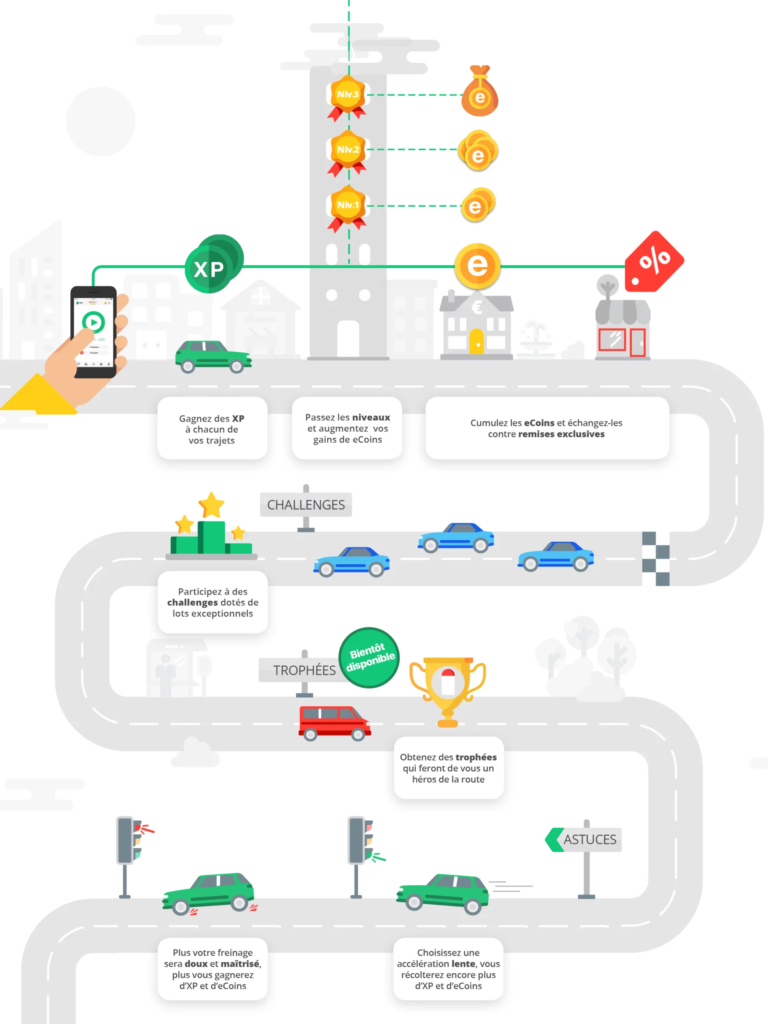 Feat-Y : How to use eiver once downloaded?
C.M-J : Create your free account, then simply press a button to record the car's speed information. The eiver application records every position and speed per second. This data reconstructs an acceleration and deceleration profile of the vehicle. Our goal is to promote smooth driving, with a gradual slowing down to a stop at a stop sign or red light, and a smooth, gentle and regular restart. In the face of certain motorist behaviors, we estimate that eiver could reduce the impact of carbon emissions by 40% in one year.
There is no need for a box to be connected to the vehicle, eiver only uses the GPS sensor of the smartphone. The application is non-intrusive during the journey. Moreover, thanks to an AutoPlay function, it works in background, locates the vehicle's start and collects data without any action from you. When you arrive at your destination, you receive a notification describing your driving.
Feat-Y : What are the challenges?
C.M-J : They are based on the principles of eiver! It is a competition between the different drivers of the platform. Each trip gives a score, a challenge takes into account all your trips and makes an average of the scores. If you have the highest score, you win the challenge, and a gift! We would like to create a national challenge to win an electric car, but we are waiting to reach the symbolic bar of 100 000 users, and we are still looking for a partnership. In addition, our corporate offer gives companies the opportunity to organize private challenges, to be unlocked by code. The principle is the same, with an internal company ranking.
Feat-Y : Where do the gifts come from?
C.M-J :We offer them thanks to about thirty partnerships with eco-responsible brands: Faguo, Aurore Market, My Little Bee, Éthi'kdo, Nature & Découvertes, etc. We also have offers around the car, with for example a waterless car wash! The value of these gifts varies between 30, 40, 50 and even 100 euros for some challenges.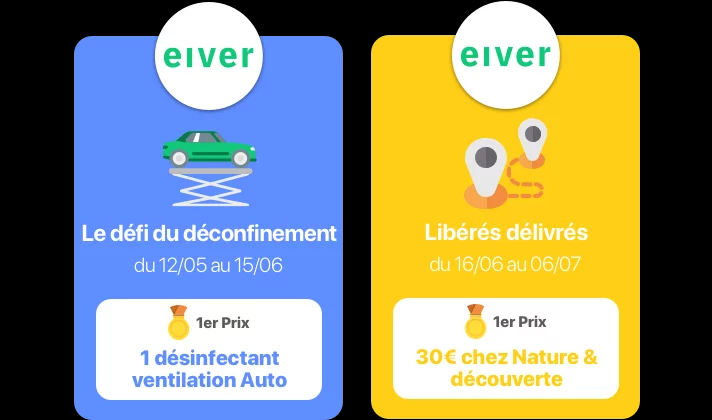 Feat-Y : On what criteria did you establish these partnerships?
C.M-J : We selected them for their eco-responsible and/or digital side. It was important for us to include online offers, to avoid emitting too much CO2. We also targeted smart offers coming from the new AutoTech, like with Eplaque, an online registration platform that allows you to receive your plate at home.
Feat-Y : Should we expect new features on eiver soon?
C.M-J : Other features will be added, including vehicle identification. At the moment, eiver is based on average fuel consumption. This new feature will allow the user to select the vehicle he/she is actually driving. This will give us more accurate information about CO2 emissions and fuel consumption in city, mixed and highway driving. We will be able to apply less estimated and more real rates.
The driver will be able to preserve his vehicle and manage its life in a responsible way. The different information will give him an idea of when he should change his tires, brake pads, etc. This new feature should be available around June.
Feat-Y : In France, where do we stand with eco-driving?
C.M-J : There is still a lot of work to be done! In France, our car culture is very Latin. The car generates a feeling of belonging. Particular importance is attached to the brand, the engine capacity and the volume. It is still a social marker, and as a result, the behavior of motorists is not eco-responsible.
Interviewed by Mélanie Domergue
Infos :
website : https://eiver.co/
Facebook : https://www.facebook.com/eiver.fr
Instagram : https://www.instagram.com/eiver_fr/