His gallery of portraits on the walls of the Old City of Jerusalem has made him one of the most prominent graffiti artists of his generation. Solomon Souza is currently in residence and has been chosen by a Foundation to promote Israeli Street-Art in the world.
He could very well devote himself to painting alone, but no, Solomon Souza prefers to give free rein to his talent on the facades of buildings, the sometimes rusty curtains of stores.
This self-taught artist has set up his painting studio and living space in the village of Safed in northern Israel, a village where art and religious tradition go hand in hand. From the terrace of his home-studio, he never tires of contemplating the vast plain, with the city of Haifa in the distance.
Not far from his cozy nest, Solomon goes to an old house called the "English Manor" which dates from the British mandate. There, Solomon spends time doing his "pictorial scales" and testing his findings, because he is aware that "when you paint on walls, you can produce the best as well as the worst".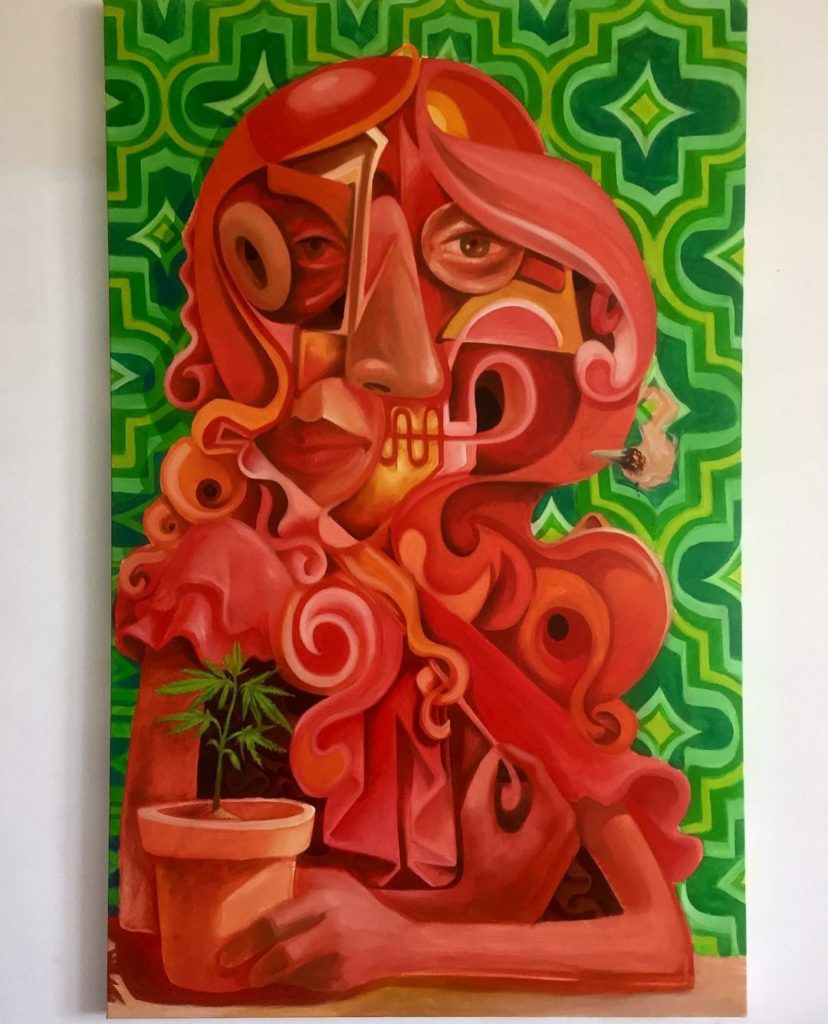 The wide world for studio
Coming from a family of artists-painters, Solomon shows very early predispositions for this art. He was encouraged by his mother for whom his artistic gift was an obvious choice:
"My mother made sure I became an artist. She always painted and taught. She had an amazing studio and I would always go there. I would paint on the wall as a child and she would tape a piece of paper to it and let me draw. She never stopped me, in fact she encouraged me.
The maternal and family influence was decisive, like the journeymen whose "trade" was acquired in an itinerant way, he moved from city to city and from country to country, changing schools fifteen times, which allowed him to extract the substance of the situations he was confronted with. Born in England in 1993, he nevertheless moved to Israel at the age of 17.
His assessment of these peregrinations is positive:
"It has made me, in a way, very social, because I make friends very easily. I had a very crazy childhood. I was a very awkward kid and I did some stupid stuff. But I wouldn't have been the same person if I hadn't done those things.
This open-mindedness is reflected in his work, as he does not shy away from any subject, but displays a predilection for identity and freedom, to which he gives the face of iconic people who have marked their time.
In the spotlight
Since 2016, when the artist's talent came to light, he has made world history his specialty, painting figures such as World War II Jewish soldier Hannah Szenes, American rabbi Abraham Joshua Heschel and the leader of the nonviolent movement, Mahatma Gandhi.
In 2006, hired by graffiti artist Berel Hahn, the two artists began painting the rusted curtains of the stores in Jerusalem's Mahane Yehuda market: "This project made me think a lot about the content of my work and how you can depict a message and tell a story when you paint an image," he says.
His works are not stencils, but real works that are created before the eyes of city dwellers, even if he favors the hours when the streets are deserted and the stores are closed, for convenience, but also for safety, because he handles toxic sprays.
These many nights devoted to painting have propelled him into the world of prolific graffiti artists, in Jerusalem alone between 220 and 360 of his paintings are reproduced on the walls.
All of them bear his signature, most often portraits of people who have given their identity to places and without them, they are not quite the same. His message is political and he wants to say that we need everyone to make a nation. Very colorful paintings serve admirably the message he wants to convey.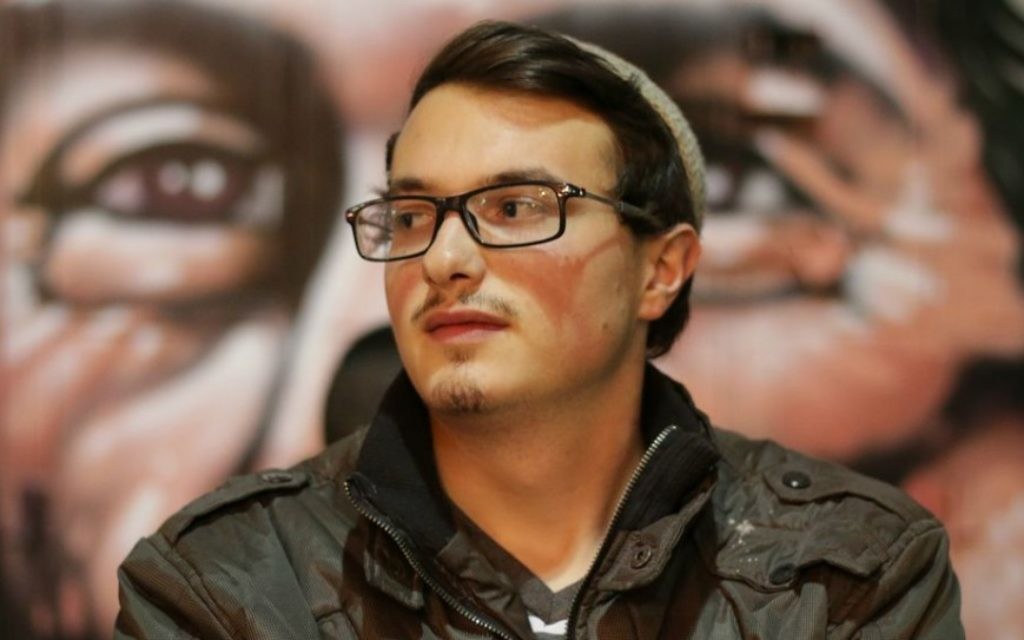 In India in the footsteps of his grandfather Francis Newton Souza
There is an old saying that says "good blood can't lie" and for Solomon it takes all its meaning. Invited in 2019 to the Serendipity Arts Festival in Goa, birthplace of his grandfather the painter Francis Newton Souza, engages in an initiatory quest under the sign of emotion he seeks traces of the passage of this brilliant grandfather, founding member of the Progressive Artists 'Groupof Bombay.
"We found the perfect wall and were about to paint the great pioneer of progressive arts…however, the universe had different plans. So, picking up my paint, walking down the work platform and giving a nod of gratitude to the man who had connected me to this life and legacy, I painted Souza as a child, the age he would be in Goa, a youngster with the world spread out and open before him like a huge white wall," he writes. Perhaps the reason the senior Souza looks a bit bored is because Solomon was "quite frustrated and hurried…maybe it shows in his features."
In the streets where he finds his inspiration, he looks for the trace of Francis Newton Souza's passage on earth: "It was exciting for me to wander the streets that my grandfather would have wandered as a child. I saw little kids running around in the open air and I thought, 'That would have been my grandfather 70, 80, 90 years ago.
Back to his paintings, he creates on the walls women freedom fighters, some of whom were imprisoned and tortured, among them the poetess Eunice De Souza. He also dedicates a painting to Sacrula, a mysterious man, a bit of a magician and entertainer People thought he was a little crazy, but he was just very different. He would dress like a priest, even though he wasn't one, with long robes and bless people in the streets," he says. The work is on the wall of an old Portuguese house on a sharp bend in a busy road. "I almost got run over a few times painting it." he said
On another wall is Anthony de Mello, one of the founders of the Board of Control for Cricket in India. "It was this guy from a small village in Goa who exploded into the world, just like my grandfather did. The people of Goa are very smart and international. They love to spread out and explore. I'm sure the Portuguese played a role in creating this culture by coming on ships and when they left, opened up Goa." says Solomon.
But the charge of emotional impact is at its peak as in Saligaon, Solomon found the ruined house where the legendary artist had lived.
His first mural, appropriately, was also done in the ancestral village of Francis Newton Souza, Clarice Vaz, writer, artist helped Solomon Souza to settle. She said the young artist was "disheartened"when he saw the dilapidated state of the house in which his grandfather grew up. "He had tears in his eyes when he saw that whoever bought it didn't take great care of the place.".
Back in Israel, he spends most of his time in the streets of the old city of Jerusalem or Jaffa. For a few months, he has been in residence, Adam Scott Bellos who created The Israel Innovation Fund, created the Hebrew Wallpaper Project and chose him among others to promote the Israeli culture throughout the world. Like him, other young graffiti artists will have the opportunity to meet their public.
Lea Raso Della Volta