For more than a year now, the French have been hearing about a "world before" and a "world after". It is difficult to know what it will be like, but we have the right to hope that it will be better! According to Kamel Naït-Outaleb, the banking sector must become more transparent, ethical, and advice-oriented. In line with environmental and societal values, which more and more of us are defending. After a 20-year career in the banking sector, Kamel Naït-Outaleb has been working since 2018 and with two associates to create a new, more ethical banking model. Feat-Y presents OnlyOne, officially launched since April 2021.
A personal current account is also a photograph of one's life.If today, environmental and societal approaches are more than welcome in our daily lives, Kamel Naït-Outaleb wanted to link our personal convictions to our consumption patterns. Starting with OnlyOne's DNA, built on four strong values. This solution is responsible, ethical, supportive and transparent.
10% of the turnover is donated to UNITLIFE, a United Nations fund created to fight against chronic child malnutrition. OnlyOne is also directly or indirectly aligned with 8 of the 17 sustainable development goals established by the United Nations member states, and more specifically with the following 4: "zero" hunger, the fight against climate change, respect for the earth's life and the strengthening of partnerships to achieve the defined goals.
Every transaction is a good deed!
OnlyOne, how does it work? This payment account establishment comes in the form of an all-in-one application, available on iOS and Android. It only takes 10 minutes to open a positive impact account, for 6 euros per month. Every new member benefits from real support, with real-time notifications to guide them. They then receive a physical card in recycled PVC, in addition to a virtual card.
With each purchase made with an OnlyOne card, they are already doing a good deed, since all the revenues paid back by the merchants finance projects in favor of biodiversity. Thanks to OnlyOne, they can plant hedges or finance beehives while shopping!
From the OnlyOne application, the user can also open different coffers, associated with various projects. He is thus free to build the appropriate budgets for what is important to him. If he wishes, he can even send his round-up expenses to one of his coffers! An amount that he can save or transform into a donation. Saving then becomes not only accessible, but also useful and ethical. Every owner of an OnlyOne account thus takes back the power of his money to save or invest in companies that build the world of tomorrow.
Indeed, OnlyOne's Impact Place presents several services to save or invest in companies selected for their environmental and/or societal commitment. Proposals that also affect our daily lives, since they include the green energy supplier Plüm Énergie, or the responsible gift card Éthi'Kdo.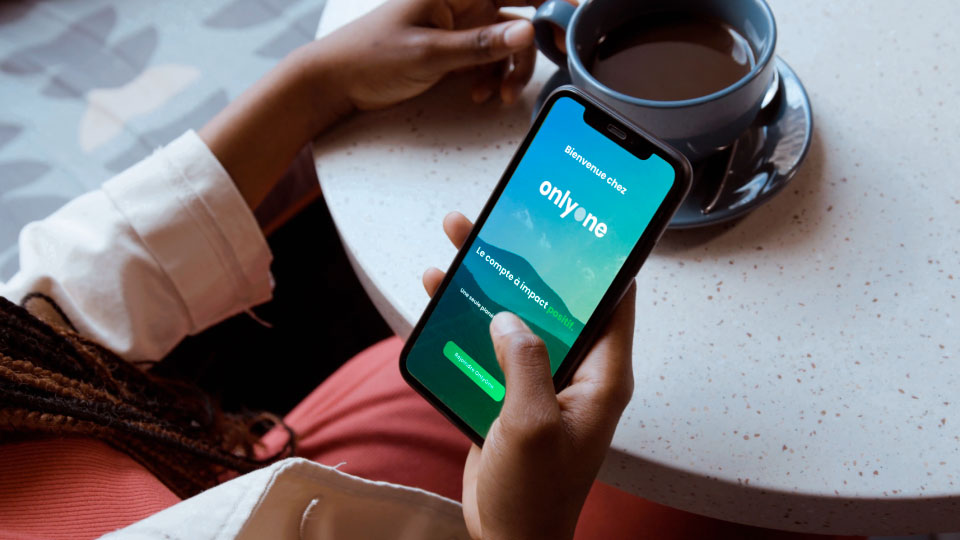 Establish the carbon footprint of your consumption
The OnlyOne application can therefore be controlled according to your desires and lifestyle. Beyond a positive impact account, it is also an aid to accompany the user more easily towards an ecological transition. The personalized eco-coach (thanks to its in-house created algorithms) allows to understand concretely what is our carbon footprint when we buy, and then to discover new more eco-responsible alternatives. This is a good way to review our habits if necessary! Moreover, a sponsorship program should soon be available on the platform, in order to invite each customer to promote OnlyOne to friends and family sharing the same values.
This solution imagined by Kamel Naït-Outaleb encourages actions taken in small steps, as they are the first steps towards big changes and a gentle but lasting awareness. Managing money responsibly has never been so easy, with consumption in line with one's values and ethical savings solutions. This accompaniment in consumption up to savings proves that each citizen can have a positive impact on the world.
OnlyOne's concept is also part of a people-oriented approach, as the establishment intends to satisfy its customers to the maximum. New features are added to the application every 15 days, and users' opinions are even solicited to build a premium offer, Impact +.
Learning to listen to each other and co-constructing an ethical and responsible project: what if we were already there, in this world of tomorrow?
Mélanie DOMERGUE
Infos :
Site internet : https://onlyonecard.eu