For the past year, the Coronavirus has been influencing human lives all over the world, with moments of confinement or curfews for several hundred million people, especially in developed countries, where the economic effects are massive in terms of access to material living conditions. But according to Audrey Tcherkoff, Executive President of At the Positive Economy Institute, interviewed by Feat-Y,this crisis is the perfect opportunity to reshape our mode of economic production, by insisting on finding a balance with nature from now on, because this period proves the existence of a "link between environmental protection, animal health and human health". Interview.
Feat-Y: Could you tell us what the Positive Economy Institute is and what are its missions?
Audrey Tcherkoff: The Positive Economy Institute was founded by the Positive Planet Foundation, which has been working in France and around the world for nearly 22 years to help the most disadvantaged populations emerge from precariousness by helping them create their own sources of income. In 2013, the Positive Planet Foundation decided, with its President Jacques Attali, to launch a movement for a positive economy. The positive economy is an economy that leaves no one behind, that takes into account all the actors in society and that brings the interest of future generations into all decision-making processes.
The Positive Economy Institute was created to accelerate this transition towards a more sustainable world by supporting businesses, territories and citizens. We also share best practices from around the world at our major events, during which it is always very interesting to meet entrepreneurs who explain how their organization, by adopting a more responsible approach, has been much more successful in terms of profitability and attracting talent. The Institute therefore has three jobs: it helps private and public players to become more positive by advising and training them. But also by giving them tools, particularly measurement tools. We have developed positivity indices, which enable us to calculate the positivity of a company, a city or a country over the year. This calculation gives rise to a roadmap that enables us to reorient the strategy in progress and set concrete objectives and the means to achieve them.
We also try to reach out to as many people as possible with inspiring examples at our Positive Economy Forums. Several times a year, we organize major conferences, summits and forums, sometimes lasting three to four days, mostly aimed at citizens, during which we show that change is possible at all levels and that each of us can contribute to this common edifice of a better world for present and future generations.
Audrey Tcherkoff: "I think that there will be a before and after Covid in our lives and in the life of companies".
Feat-Y: How do you analyze the economic and social effects of the health crisis that has affected the world over the past year? Can we fear that this crisis will generate a lost decade for all the countries of the world, especially the developed countries?
A.T: We have, in this great misfortune, a tremendous opportunity to reinvent new paradigms.
You are right to say that this is a crisis that affects society as a whole, that affects every human being in the depths of his or her intimacy. It is a crisis that makes us realize how interconnected and connected we are. A health crisis that starts in the heart of central China and succeeds in bringing the world economy to its knees in record time, making us review all of our lifestyles and endangering the lives of millions of people. It is an urgent need to take into account this interdependence of human health, animal health and environmental health.
For far too long we have acted as if we had a monopoly on life. Today, 500 million people are threatened to fall below the poverty line with this health crisis that has turned into an unprecedented economic crisis. This is the time to reinvent the world we live in and not to go back to the models of the past, not to let decisions that are built on short-term deadlines pass us by, both with our economic and political leaders.
In this sense, civil society, in my opinion, has a real role to play, by conveying its priorities for the future to these decision-makers.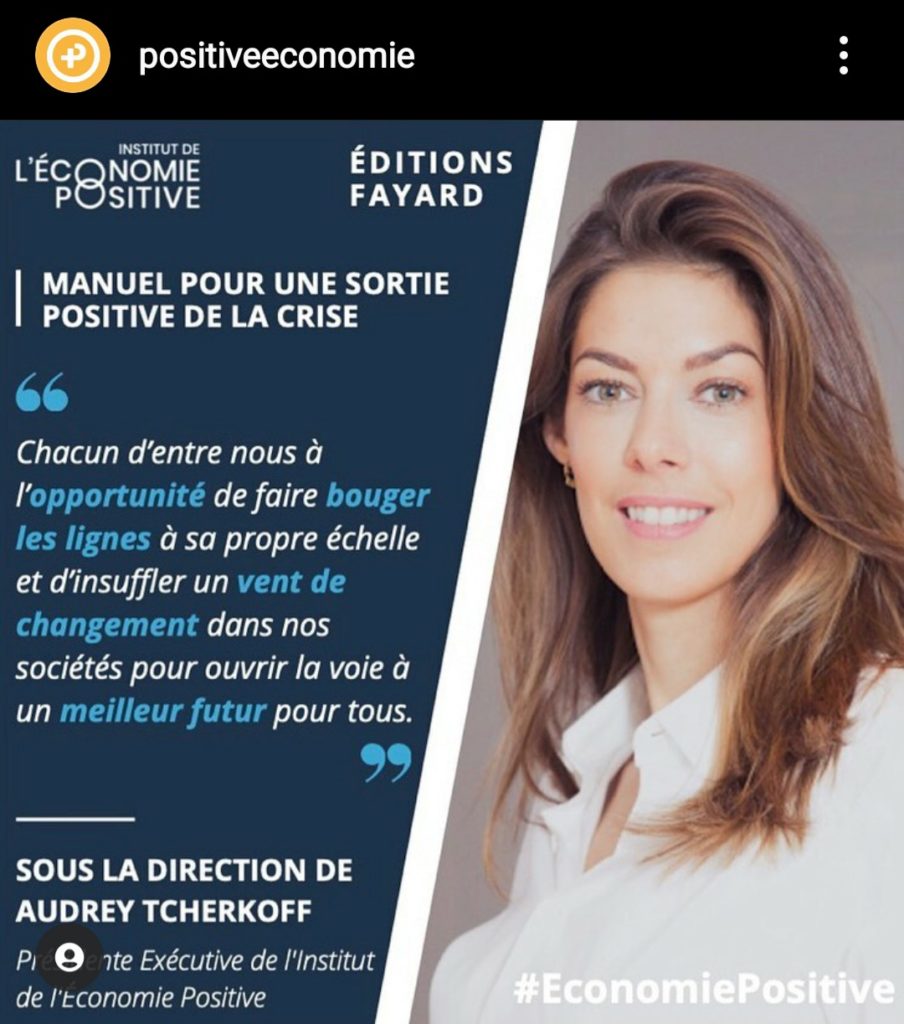 Feat-Y: Is this crisis, linked to the Coronavirus, indicative of a general malfunctioning of all areas of life in society (governance, health, education, international relations, environment, etc.) in your opinion?
A.T: Absolutely! The specificity of the movement for a positive economy is that it takes into account environmental issues, societal issues and economic issues. These are really all aspects that make a society sustainable or not.
The unique aspect of this crisis is that it is not of economic origin. It was provoked by the political choice to put life before profits. In this sense, this crisis functions as a catalyst, a gas pedal of ecological and societal awareness.
For the past year, we have seen that we produce differently, that we consume differently, that we travel differently. Much less. It is an experience lived by more than four billion human beings. It is an experience that raises a general question about our lifestyles, about the question of meaning. We are all wondering whether the pandemic might not be the opportunity, the signal for something to change in our lifestyles, in our modes of production, in our economy, in our relationship with the world, in our travel. I think that there will be a before and after Covid in our lives and in the life of companies.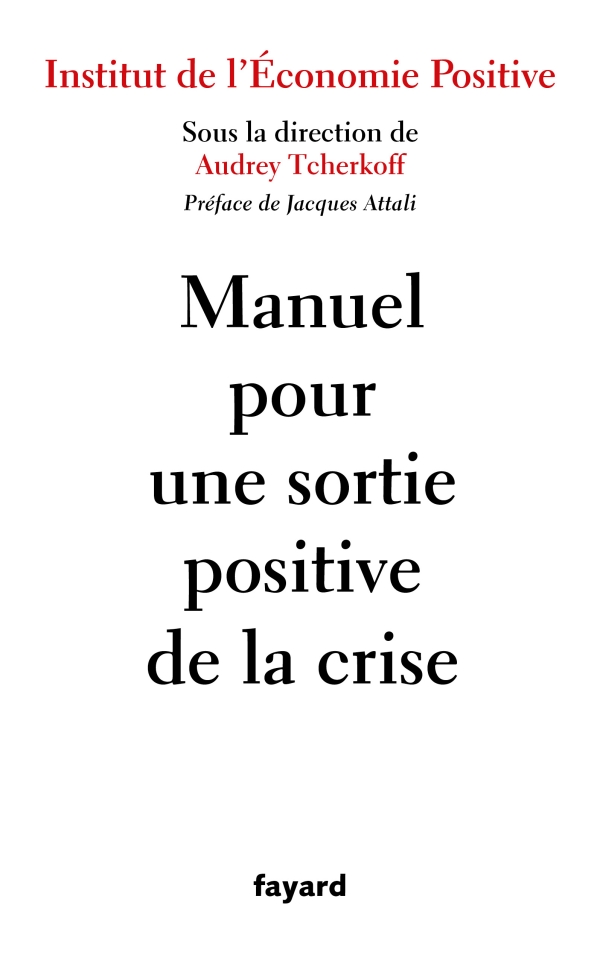 Feat-Y: What solutions would you and the other members of the Positive Economy Institute think should be favored, at the end of the health crisis, to build viable economic and social structures?
A.T: The extent of the crisis of the Covid-19 reveals the lack of attention paid to the "economy of life". Under-investment in a series of vital sectors, the fragility of our global supply chains or the lack of incentives for the reconversion of unsustainable sectors increase the probability and impact of future crises.
The economy of life includes sectors such as health, welfare, waste management, water supply, sport, healthy food, agriculture, education, clean energy, environmental protection, public transport, freight, digital, housing, culture, security, credit, insurance, as well as sectors that contribute to ensuring equal opportunities and improving democracy, many of which are not recognized for the value they bring to our societies.
Our proposal: massively redirect investments towards the life economy (notably through the use of sovereign wealth funds, employee savings, public financing), based on a methodological framework developed by a group of experts under the auspices of the OECD. This will make it possible to define the sectors included in the life economy, to monitor and evaluate the financing needed, to measure the benefits of investment in these sectors and to present the possibilities for transformation of other sectors. Putting people back at the heart: Promoting sustainable corporate governance with increased employee participation in defining long-term strategies, strengthening the participation of younger generations by establishing a youth board of directors in all major companies.
Covid-19 is another proof of the link between environmental protection, animal health and human health. The impact of human activities on ecosystems, with continued deforestation, urban sprawl, global warming or intensive livestock farming will only encourage the emergence of new coronaviruses. But they are only one of the consequences of our environmental inaction: air pollution or antibiotic resistance, to name but a few, are already the cause of millions of deaths every year. To meet these challenges, we need to pool our skills as part of a "One Health" approach. This involves implementing a genuine policy of health prevention, prevention of environmental damage, and waste reduction, in order to prevent the occurrence of new diseases. It is essential in this respect to harmonize international health standards at the highest level. Building a true One Health approach that involves companies, citizens, governments and international organizations is the foundation of viable economic and social structures.
Feat-Y: Is one of the solutions, alongside those advocated inthe Handbook for a positive exit from the crisis, which you edited, a better consideration of the social and solidarity economy?
A.T.: A simple consideration would be a good start… But I would say that we have gone beyond concepts and declarations of intent, society and citizens are now very attentive to concrete actions. We must not waste the opportunity that this crisis represents.
Jonathan Baudoin