Let's face it: current news is not great at the moment. But a healthy dose of hope awaits you on 12 and 13 May 2023 with the PAUA event. For two days, business leaders, entrepreneurs and thinkers will gather together to envision the world of tomorrow. Combining progress, ancestral knowledge and the necessary reconnection with nature, they will outline the shape of a fairer and more sustainable world. Exceptional guests, two members of the Kogi tribe from Colombia, have responded.
We are living in a world where things are going faster and faster. We can easily become disoriented. Nevertheless, solutions do exist to combine progress, positive impact and preservation of our resources. The debate will take place on Friday 12 and Saturday 13 May 2023 during the PAUA conference. The conference will take place at Station F (Paris), the world's largest incubator. For this occasion, prestigious guests are expected. Among them, two representatives of the Kogi tribe from Colombia. They have chosen this event to travel for the first time. They are Luciano Mascote Conchacala (Kogi traditional authority) and Arregoces Coronado Zarabata (translator, school director, leader).
A key presence, reminding us of the importance of reconnecting with nature. Together, they have chosen Europe and PAUA to share the culture and traditions of their tribe. She is the illustrious descendant of the Tayronas, one of the greatest pre-Columbian civilizations of the Latin American continent.
An exceptional meeting with two representatives of the Kogi tribe
the Kogi tribe is probably the most isolated of the world's indigenous peoples. They live in the Sierra Nevada de Santa Marta mountains in northern Colombia. They are holders of the intelligence of nature and have a very different way of perceiving our world. For instance, Kogi masters have spent 10 to 20 years in a cave since their birth. They are a group of 12,000 men and women who live a simple existence in perfect harmony with mother earth. Usually, they do not welcome groups on their territory. Neither do they hold ceremonies for outsiders. PAUA is an unexpected opportunity to talk to two prominent members of this tribe, who have a lot to teach us. During the two days, they will enlighten us on how to sustainably implement regenerative actions, in line with values of nature preservation and respect for human beings. They shall also alert us to the excesses of new technologies. A wisdom and ancestral knowledge that is missing from our daily lives.
For two days, we will reflect together on how to create a more sustainable and conscious world. Paua is first and foremost the challenge of a duo who believe in the intangible link between spirituality and technological progress. In other terms, a perfect match between ancestral knowledge and new technologies. The aim is to create a more sustainable world and thus preserve the future of our planet.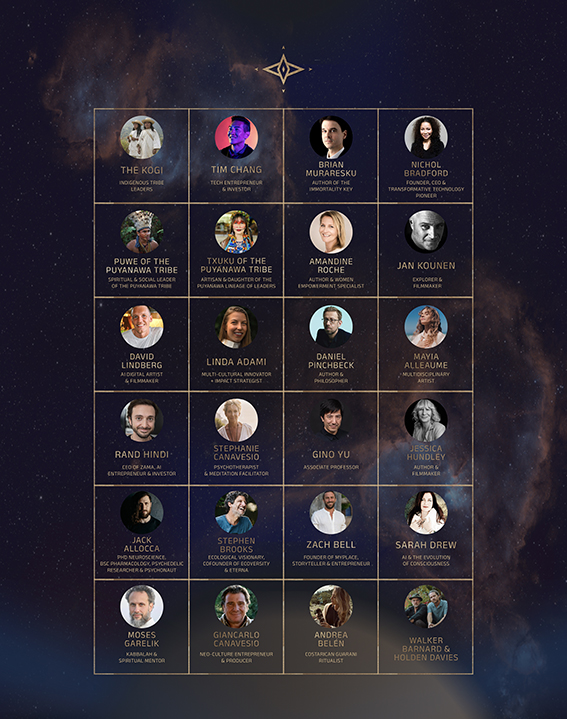 It was conceived by Loïc Le Meur (the man behind the LeWeb conference, which brought together 4,000 entrepreneurs over 12 years) and Magdelana Sartori (founder of The Yin Institute). They launched the first edition of PAUA in October 2022. It was attended by over 430 participants from 35 different countries. This year the unique event is back with a special theme: the intersection of artificial and natural intelligence. Alongside the Kogi tribe, many inspiring personalities will share their views on anticipating tomorrow's world and providing solutions today to make it more respectful and sustainable.
The purpose of this event is to restore consciousness to the core of our actions (individual, collective or entrepreneurial). Among the topics discussed, participants will project themselves into a different way of looking at the metaverse, AI or the Web3.
Quite a program!
More information :
To learn more and participate in the PAUA event: