After the concreteization of professional spaces, has the time come to give nature its place in the workplace? The Greenmood company is convinced of this, offering various natural products, based on vegetable foam, to soundproof work spaces. Meeting with Ajay Menda, co-founder of Greenmood. Interview.

Feat-Y : Could you tell us what is Greenmood and how long has it been around?
Ajay Menda: Hello, thank you for visiting our offices. Greenmood has been in existence for five years and we in France have been in business for a little over a year.
Feat-Y : What does your company offer ?
A.M : Our company offers plant-based solutions. It is 100% natural! No watering, no maintenance, design and acoustic. The objective is to green the work spaces and to bring the design and acoustic side.
Feat-Y :What guarantees the quality of the work produced by Greenmood?
A.M : Globally, we use different raw materials to be able to carry out the vegetation. We have raw material called moss, foliage that is stabilized. When we speak about stabilizing, we speak about the fact of freezing mosses and plants. So, it is this type of raw material that we work with to vegetate. We have a supply circuit that is quite transparent. For example, we have been using the same channels since the creation of the company. We are sure of the quality, we are sure of the origin. It is with this and our processes that we try to maintain the level of quality.
Feat-Y : Do these suppliers come from France or elsewhere in the world?
A.M : It depends on the type of material. We have quite a few countries but we remain exclusively on Europe in terms of supply.
Feat-Y : If we look at your website, we can see that the range of products you offer is aimed at companies. A strategic choice, I guess?
A.M : For the moment, yes. In France, as we have only recently begun to operate, we are concentrating on B to B for the moment. After that, B to C is an objective, but for later, when we will be able to take care of B to C, to offer them a real quality of service.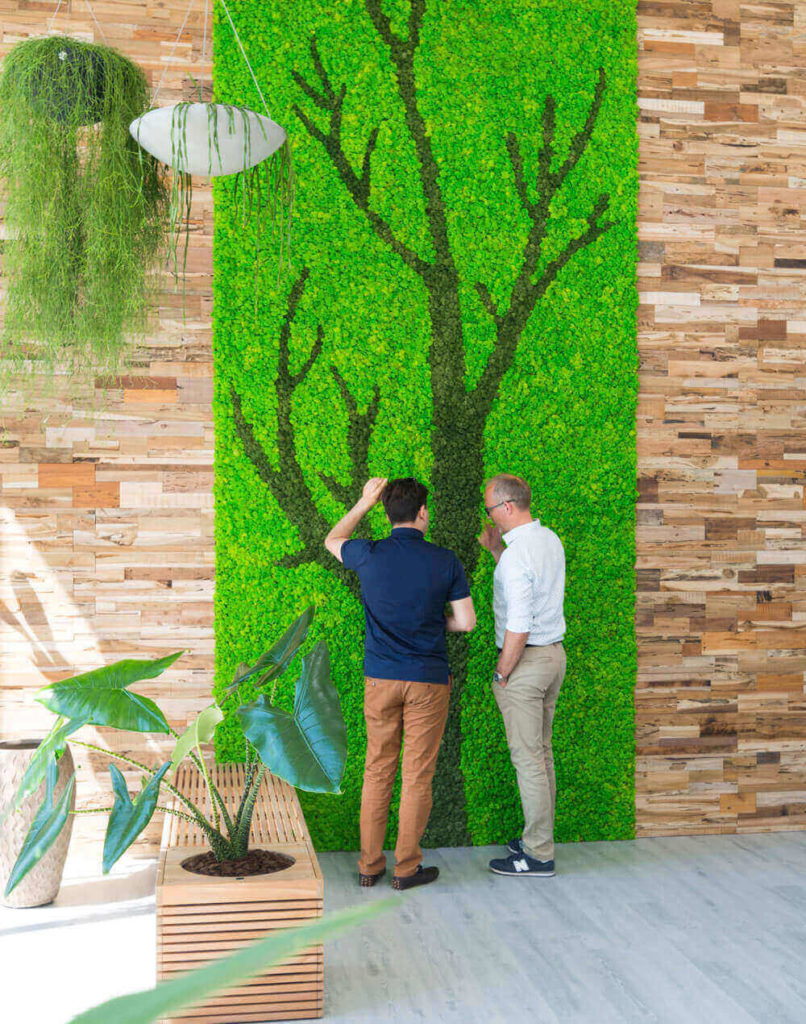 Feat-Y : Is accessibility for individuals a possibility?
A.M : It is possible. But as I was saying, you have to scale. And if we want to offer products to individuals, they have to be adapted.
Feat-Y : Greenmood has offices in about ten countries, mostly in Europe. Does this mean that the Old Continent is important for the company's activity?
A.M : It is very important! The "Old Continent", as they say, even if I'm not a fan of this expression, is very important for us. It's already the heart of our market! We started in Europe. Our activity started in Belgium. Europe is also a great market for architecture and design. We are now present in 11 countries.
Feat-Y : What is the share of Europe in Greenmood's global turnover?
A.M : A big part. We recently opened in the United States. Specifically, in July of last year. Taiwan, we opened a little bit longer ago.
Feat-Y : What goals have you set for the year 2020, or even the entire decade?
A.M : Overall, it's to develop the brand. It's to make the process known. It is to say "you have other alternatives". When we talk about vegetation, we have living vegetation, artificial vegetation, but also stabilized vegetation. The objective is to democratize this type of vegetation. We have been around for years, we have a real competence in this field. We are able to offer different types of products to vegetate stabilized areas. This is the medium-term objective of the brand.
Feat-Y : Products that have a long shelf life, I assume.
A.M : Absolutely! You have products with life spans of between five and fifteen years, depending on the material you use.
Feat-Y : Could the evolution of mentalities and of the legislative framework in relation to the environmental issue boost your company, and by what means?
A.M : Honestly, I'm not sure. I hope so, actually. There was a time when we talked about the concreteization of spaces, where concrete took on a lot of importance. We want to bring nature back to the heart of work spaces. What we notice is that the public is sensitive to this.
Feat-Y : What convinced you to join Greenmood?
A.M :My background is not in plants. I'm a consultant, in purchasing. It's something I've wanted to do for a long time. It's part of the spirit in which I am. At one point, I said to myself "it is absolutely necessary to be able to promote this type of innovation in office spaces", in which I worked for several years, where there were not necessarily plants and it is a way for me to develop something other than the classic framework in which we evolve.
Feat-Y : If you were a movie, which one would you be?
A.M : I would be an Indian film, which I don't think many people know about, called Dilwale Dulhania Le Jayenge. It's a film that had a big impact on me as a teenager.
Feat-Y : If you were a song, which one would you be?
A.M : I think it would be Goldman's Je te donne. I love that song.
Feat-Y : If you were a literary work, what would it be? What would it be?
A.M : perhaps the Art of War by Sun Tzu. It's something that I've talked about a lot with my strategy teacher, who made us aware of Sun Tzu's book. I use some of his expressions from time to time, it's a very old book, I think what he was saying is still right in our time.
Feat-Y : If you were a sport, what would it be?
A.M :I don't know if it's really a sport, but I'm a fan of rollerblading, because it's just freedom. You can go whenever you want. You just put it on!
Feat-Y : If you were a historical figure, who would it be? Why or why not?
A.M : Very complicated! I try not to identify myself too much with a character, in general. (He reflects) I would say, after reflection, the Shâh Jâhan, the one who built the Taj Mahal. He would have been born, apparently, at the same date as me and especially for the symbol of love behind the work of the Taj Mahal
Feat-Y : If you were an organization (company, association, administration, etc.) or a country, what would you be?
A.M : It depends on Costa Rica, for example. A country without army, without fear of danger for example. Spain, for the beaches. The Secours populaire, for the apolitical side. There is not really an organization, nor associations, nor countries that are really perfect. There are good and bad things.
Feat-Y : If you were an animal, what would you be?
A.M : Maybe a horse. I don't know if it's my Chinese sign, I think it must be. I admire the horse. It is an animal that is independent, proud, with a lot of freedom and is temperamental.
Feat-Y : If you were a plant, which one would you be?
A.M : a stabilized plant, which will live much longer! Maybe jasmine. I grew up with it.
INTERVIEW Jonathan Baudoin