It goes without saying: when you care about the planet, you correct your habits! In France, the gourd market is in turmoil. In July 2019, the two brothers Étienne and Valentin Courtois created Ecob, an eco-responsible gourd made of 75% recycled glass. It is protected by a cork cover and covered with a wooden stopper. After several phases of testing, the big launch took place more than a month ago. More than 150 bottles have already been sold.
Feat-Y : How was Ecob born?
Étienne Courtois: About a year and a half ago, my little brother Valentin and I had in mind all the environmental issues we face today. We wanted to work together and reinvent everyday products. One figure caught our attention: 25 million plastic bottles are consumed every day in France. We said to ourselves that the proposed alternatives might not be as qualitative or practical as plastic. So we thought about creating a bottle that would be as pleasant and comfortable as a plastic bottle, but that would be the result of an ecological, sustainable and responsible process.
Feat-Y: How has the project evolved?
E.C.: At the beginning, we wanted to meet the needs related to the use of water in companies. Then we realized that we would not be competitive with what is being done in China. We then turned to the B2C (Business To Consumer) market (N.D.L.R.) to work on the designs and materials used.
Feat-Y: Have you made changes?
E.C.: Yes, there were between 8 and 9 months of testing and modifications. There were technical constraints: Valentin is a designer, but not a glass specialist. The design office gave us precious advice, as on the color of the glass: since it is 75% recycled, the color had to tend towards blue, green or amber. We chose this one to make a strong visual difference.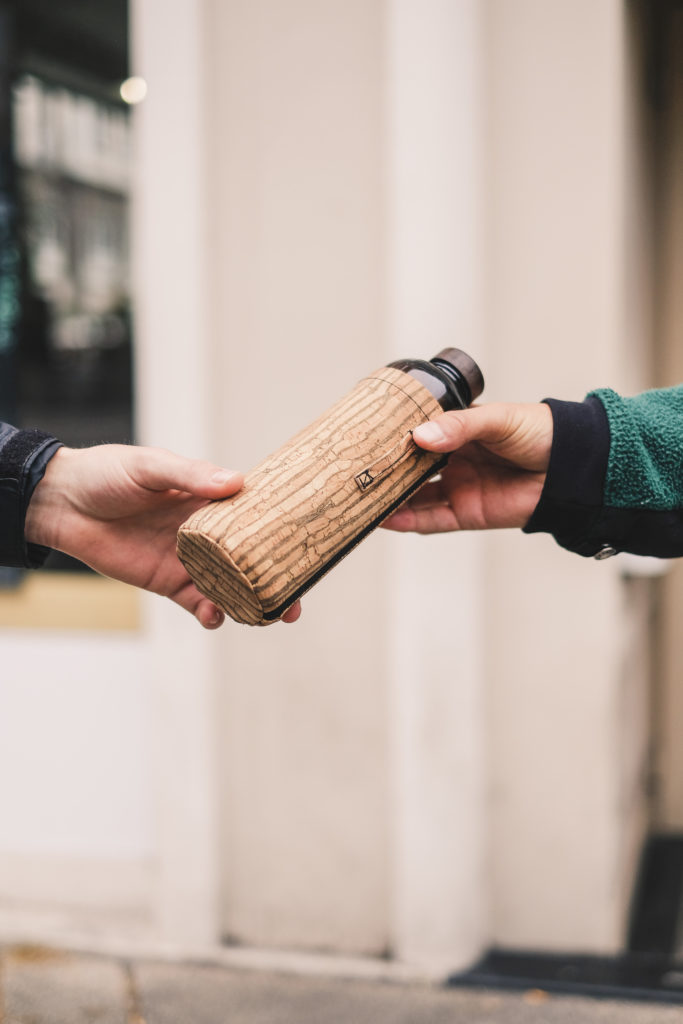 Feat-Y: Can you tell us more about the composition of the gourd?
E.C.: The recycled glass bottle is designed in northern Italy: the glass is blown into a mold. The cork fabric is produced in a Portuguese workshop, which also sews the covers by hand. As for the wooden stopper, it is made in Italy.
Feat-Y : Quels sont les retours pour l'instant ?
E.C.: They are very good on aesthetics and design! Some people don't appreciate the dark appearance of the glass, but the gourd doesn't leave anyone indifferent. We've had 5,000 visitors to the site, which is an encouraging start!
Feat-Y: Where does your ecological awareness come from?
E.C.: I've always been interested in entrepreneurship! When I graduated from business school in New York, I had a realization. I realized that if I was going to make money, I would have to work to try to bring a solution to our society. I told myself that if I wanted to be happy and reach a stage of happiness, it was by doing good around me, with a responsible and ecological project. It's not a question of fashion.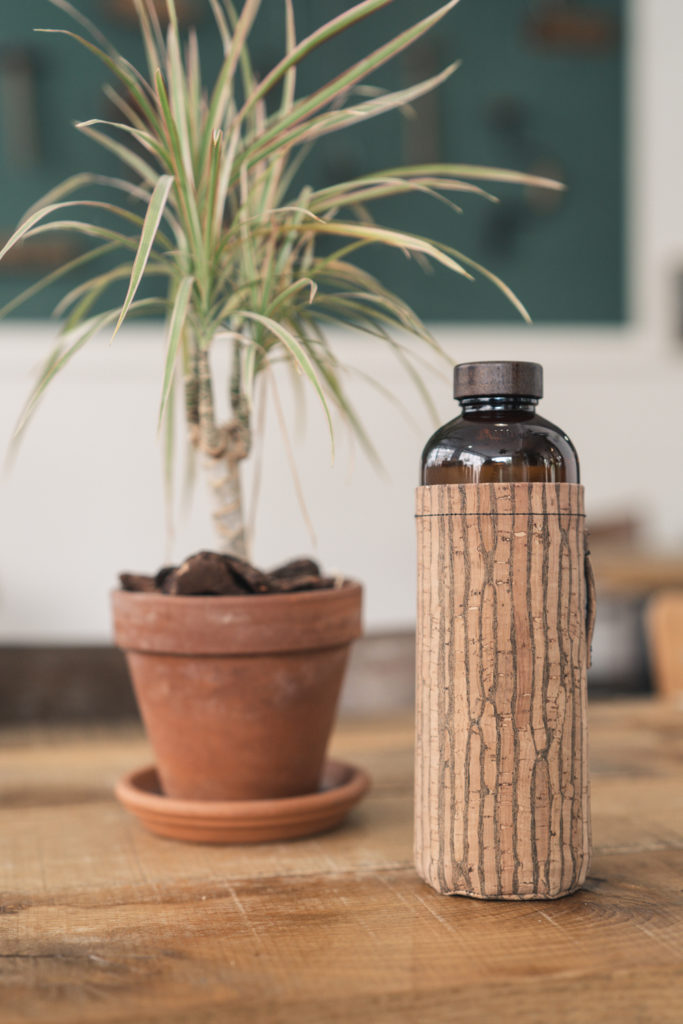 Feat-Y : Quelle est votre mise à jour ?
E.C.: For Christmas, we will soon release a limited series of 50 bottles in a new wine red color. We already have a lot of reservation requests!
Feat-Y: Do you have other projects in parallel?
E.C.: Yes! Right now, Valentin is focusing on an electric bicycle. Our goal is not to design only water bottles, but to become a responsible design studio, offering beautiful products that stand out from the crowd.
Interviewed by Mélanie Domergue
Infos :
internet : https://ecob.fr
Facebook : https://www.facebook.com/Ecobouteille
Instagram : https://www.instagram.com/ecobouteille