The extension of the closure, by government decision, of cultural venues such as theaters, museums, cinemas and associated events, plunges many players in the cultural sector into professional, material difficulties. Nevertheless, some are trying to develop alternatives and think about solutions to solidify an underestimated sector of activity.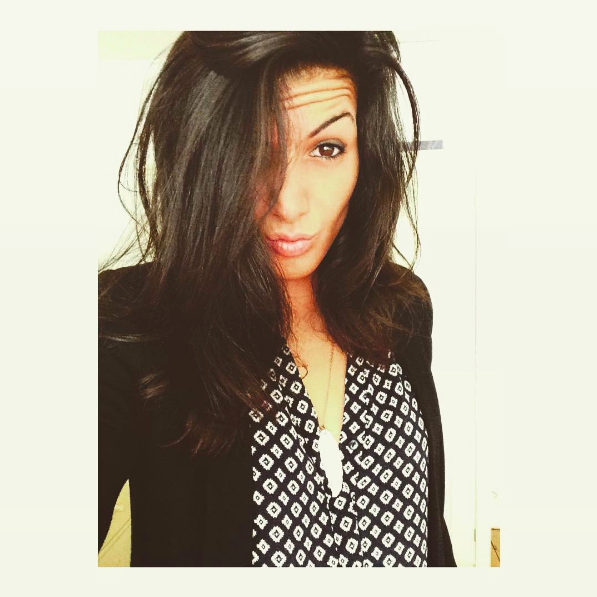 "Culture is the soul of democracy". This quotation from former Prime Minister Lionel Jospin is very timely with the second confinement, in place since the end of October in France, which brings to a halt a large number of activities related to culture, such as theaters, cinemas and museums. A situation that is hurting artists, directors of cultural venues or organizers of cultural events. ForOlivier Couder, director of the Imago Festival, which brings together shows on the theme of "Art and Disability" in Île-de-France, its programming has come to a standstill. "It is a disaster for the IMAGO Festival, which was to take place over three months (October-November-December). And it is clear that out of the three months, a third of the festival was able to take place, and the last two are cancelled or postponed, adjourned," he says. An aftertaste of abandonment remains in people's minds. "They are completely abandoning us! DjToni Vegas is disappointed," says the DjToni Vegas,emphasizing, through his observations with his school children, the contradictions of the government about the masks, the restaurants closed but that the canteens remain open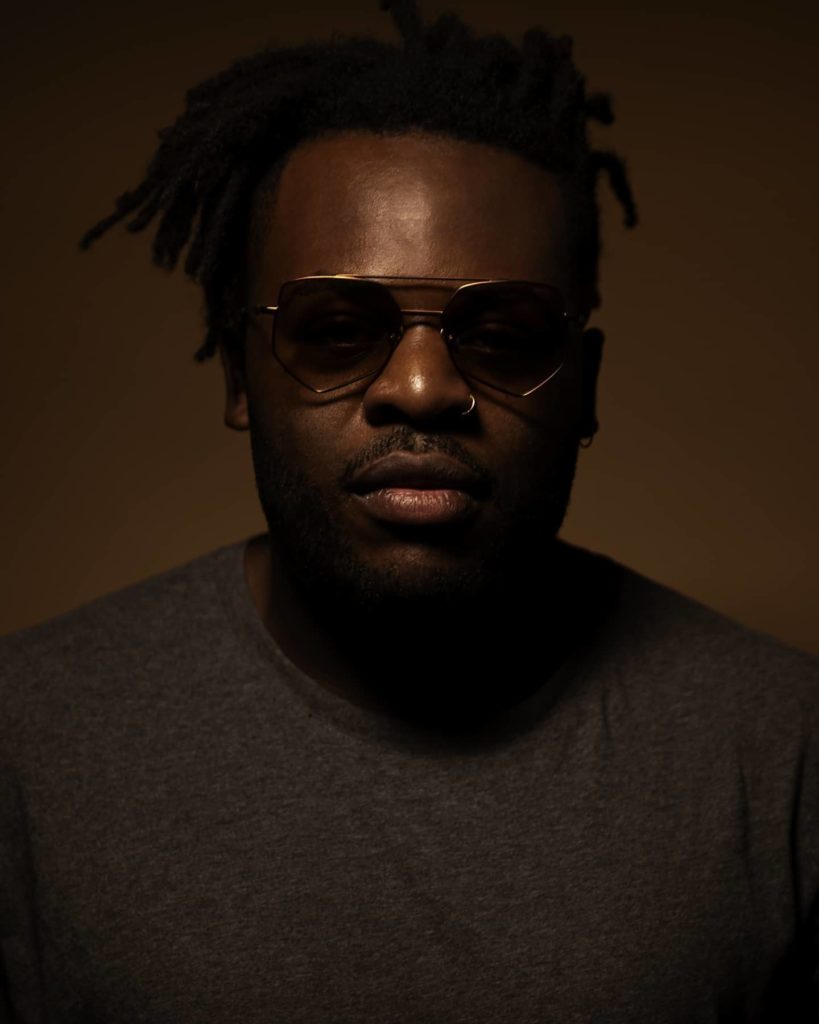 Fed up!
Compared to the first containment, in the spring of 2020, the state of mind is more in disgust. "The first containment, you had some kind of new thing. It was something we didn't know about. There was an apprehension in relation to our professions, but paradoxically, it was a moment when you're going to be able to create something and there's something new that's going to come out of it, in the sense that it's a new, unexpected situation, and that it allowed us, the artists, to have fun," the humorist recalls. Farah RKHe then adds about the second containment, which is currently in place: "This is more of a source of anxiety, the second containment. It's really not the same. We've been through this before. We have the impression that the government doesn't give a damn about the situation of artists, while we allow people to get out of their anxious daily lives. I'm much more in a spirit of fed up. "They're completely letting us down! "says the Dj Toni Vegas, with regret, pointing out, through his observations with his children, the contradictions of the government about the masks, the closed restaurants but that the canteens remain open
A point of view shared by Sandrine Simmerling, photographer and founder of the MOVEMENT dance school, who fears the long-term effects on the motivation of people working in the world of culture: "Today, it is impossible to carry out our activities and finding a job is a real obstacle course. This is very hard to bear psychologically and financially. It is also complicated because, as an artist, the lack of interaction and intellectual nourishment is a source of loss of creativity. It is also important to remember that creating and sustaining a community of dancers is an activity that requires a great deal of personal investment and is built over time. If we go a long time without seeing our community of dancers, chances are that the motivation of some people will have diminished and that we will have to start a lot of things over again," she says.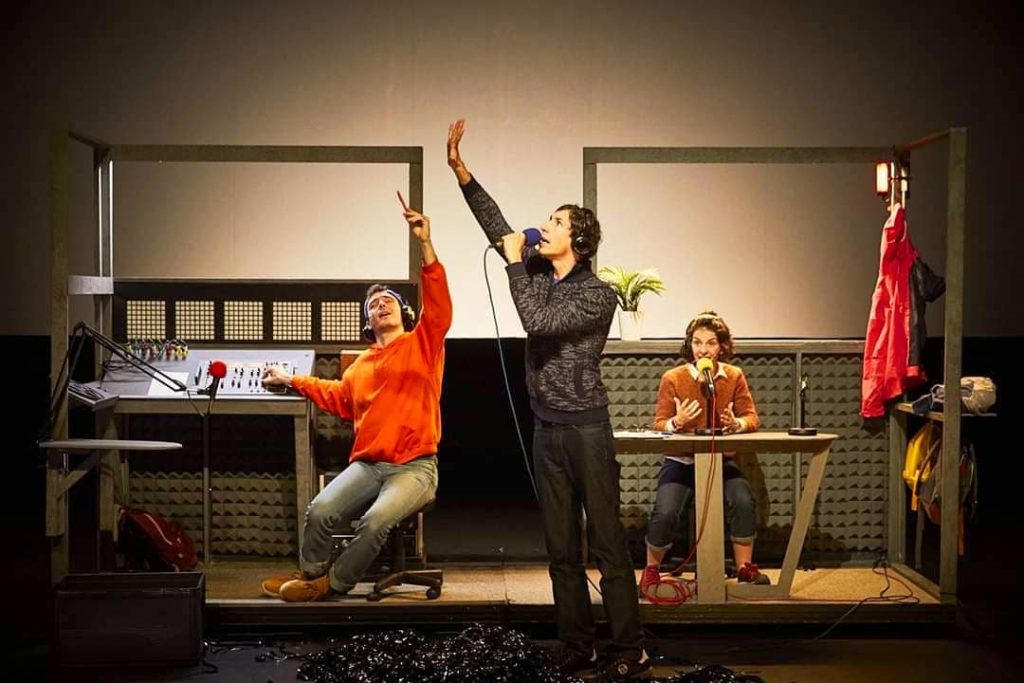 Activities related to or separate from the core business
Faced with this pattern that will last until January 20, unless there is a positive evolution, how can one remain active and maintain a certain standard of living when working in the world of culture? On the one hand, there is the implementation of activities related to culture; on the other hand, there are parallel activities, disconnected from culture, a priori. For Olivier Couder, this confinement is nevertheless an opportunity to be able to organize rehearsals and to prepare future shows that will see the light of day when the cultural activities reopen. For Toni Vegas, it's time to work upstream and to train the youngest: "For the moment, up until two weeks ago, I gave mix classes. Just to get some income. Apart from that, it's all about producing," he explains, continuing to work on his core business.
A strategy that differs from the one led by Farah RKand Sandrine Simmerling. For the comedian, who also does voice-overs, she works in digital communication for companies, but since the first confinement, she created a show on social networks calledÇa part en live.The basic idea was to do a show where we shared all our emotions during the confinement and then it evolved into a show where we talk about political news and where it's entertainment at the same time, there's no filter, etc. "It's a show that's a lot of fun," she says. "She explains, emphasizing that it allows her to create a social link via the Internet, replacing the link that a theater scene generates between an artist and the audience. At Sandrine Simmerling, also a graduate in international relations, she wanted to work in the field of diplomacy but because of her "atypical resume" (sic), applications were unsuccessful and the photographer eventually found a temporary mission for the holiday season. This was enough to help out, but without any guarantee of financial security. "I'm very worried about my situation and about the overall economic and social situation. And I don't know how long I'll be able to hold this course and maintain it," she says.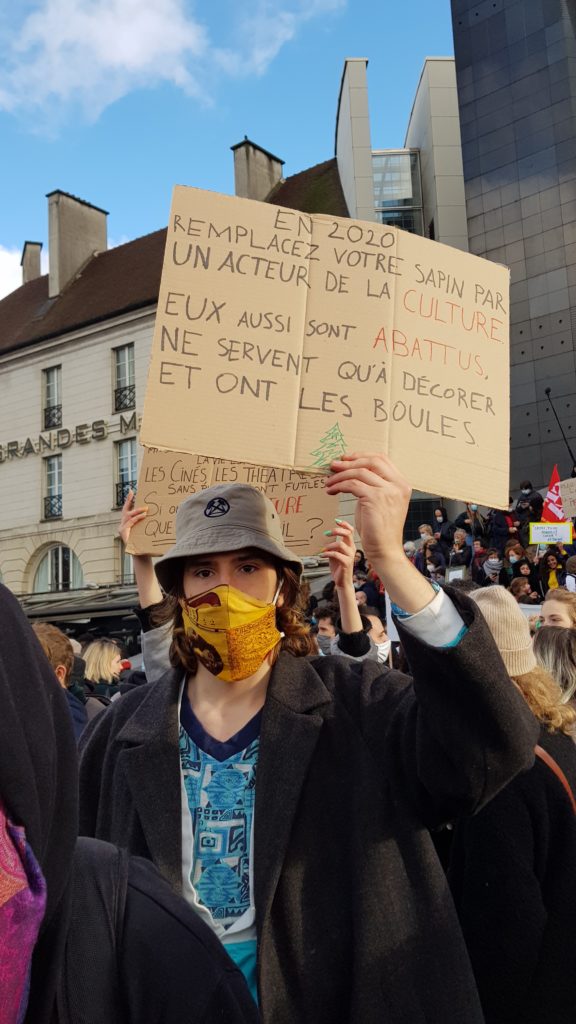 Calling on an indifferent power
It is common to speak of the French cultural exception to evoke the place that culture occupies in the life of the hexagonal city. It must be said that culture has been heavily relegated to public action, in spite of the five billion euros of aid provided to the sector since the first confinement. "The cultural sector has been allowed to die. Comedians, technicians, managers, these are words that never came out of the mouth of our dear President during his speeches. Not once! "saysFarah RK,revolted by the indifference shown by the top of the State towards a sector of activity, which like others often indirectly linked (hotels, restaurants), is fully exposed to the economic effects of the health crisis. "Culture is one of the essential modes of sociability in our world," Olivier Couderreminds us, given the extent to which the notion of essential is used as a qualifier for letting a sector of activity work or not. "Financial aid is essential to keep our heads above water and keep the structures without having to close them," he adds.
This calls for initiatives to challenge the government. In a conventional way, there are demonstrations, such as those that took place in several cities in France on Tuesday, December 15, gathering several thousand people, especially in Paris, to demand the reopening of cultural venues and that the professions in the cultural sector be allowed to return to work. The request for reopening also concerns nightclubs, which are also among those left out of the successive confinements. "In reality, they should have opened the nightclubs. Since the clubs were big enough, they could have distanced themselves, separated the tables, served people at their tables. In real life, they could have opened. Because what happened in restaurants was Pump it up! Everybody was glued. Closing nightclubs is absolutely useless," said Toni Vegas, who shot down government management compared to restaurants during the summer.
Jonathan Baudoin
Infos:
Toni Vegas: https://www.facebook.com/tonivegas75/
Farah RK: https://www.facebook.com/FarahRrK/
Festival Imago: https://festivalimago.com/