He has traveled the world like a journeyman to master his art. Maestro Lionel Bringuier is back in his native city: Nice where, at just 34 years old, he conducts the Opera Orchestra.
His official biography states that nothing destined him to become an internationally renowned musician. However, from a very young age, his parents shared their passion for classical music with him, but also with the whole siblings, since Caroline, Isabelle and Nicolas all became concert performers.
Lionel quickly understood that music is not only a gift from the gods, but also a priesthood, a love story that does not tolerate mediocrity. Hard work and passion will allow him in a few years to reach the highest level and to conduct the greatest orchestras.
Meditation and resolution over an orchestra pit
Like Obelix who fell into the pot, Lionel Bringuier fell under the spell of conducting at a very early age: "When my parents took me to the Opera, I would slip away to stand just above the orchestra pit", where all the energy and strength of the sounds emanate. But what seduces him is the perfect symbiosis that emanates from the musicians "all seemed perfectly in their element".This perfect harmony convinces him that conducting is indeed his way.
At the age of 5, Lionel entered theConservatoire à rayonnement régional de Nice, where he won five first prizes in cello, piano,chamber music, musical culture, and musical training, as well as the Diploma of Musical Studies in cello, which he received unanimously. At the age of 13, he was accepted at the Conservatoire National Supérieur de Musique et de Danse in Paris, and it was a year later that he had a rendezvous with his destiny.
"At the same time as my studies, I had taken an introduction to conducting, and then as a student I conducted my first orchestra. All the musicians were more experienced than I was, but after the first few bars, I was overwhelmed.
A wonderful experience thanks to which, he understands that the musicians did not take into account his young age « du moment que l'on connaît sa partition sur le bout des doigts, que l'on ait 14 ans, 50 ans ou 80 ans, cela est la même chose, cela leur est égal. Les musiciens ont besoin d'avoir face à eux un chef avec lesquels ils partagent quelque chose de nouveau ».
What he remembers is that he will have to work hours and hours to reach perfection, because the musicians know the works by heart and a conductor, in order to impose his authority, must be master of the work he is conducting and be able to propose an interpretation that is personal to him.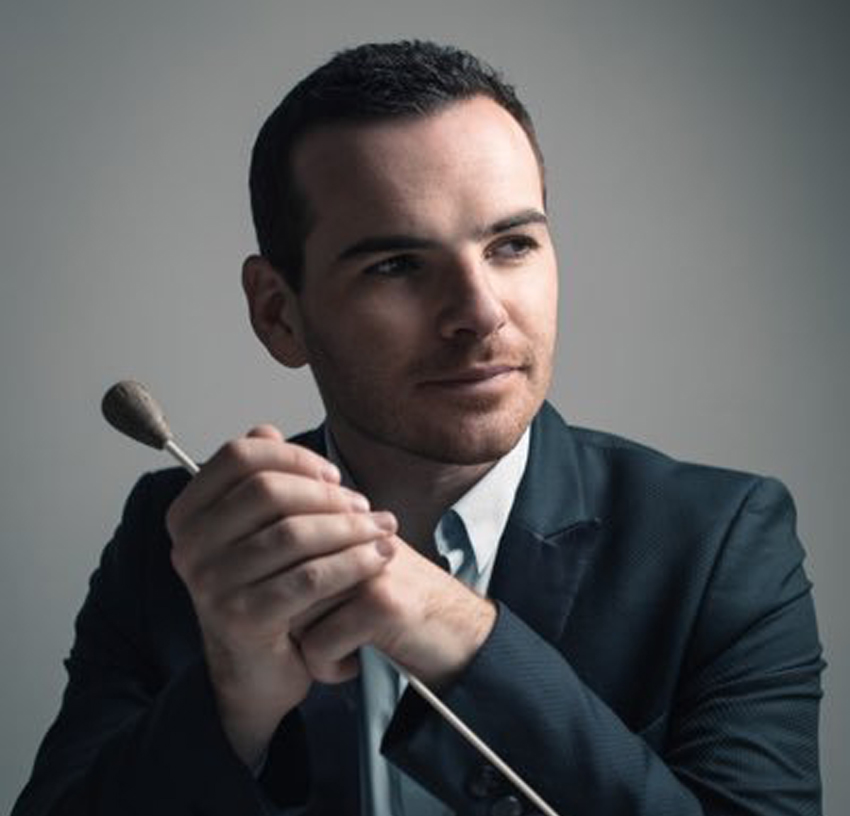 The authority of the leader, a dream…..
What will propel him into an international career is the final of the 49th International Competition for Young Conductors in Besançon which he won in 2005.
He successfully passed the first tests despite very stiff competition, as 220 conductors from 42 countries were auditioned during pre-selections in Russia, China, the United States and France.
After these initial rounds, 20 candidates from 13 countries will compete in the preliminary rounds. For the final, the two young conductors in the running are judged on their conducting of Ravel'sValse,Tchaikovsky'sVariations on a Rococo Theme and Philippe Fénelon's Gloria.
A year later, the Finnish composer and conductor Esa-Pekka Salonen appointed him assistant conductor of the Los Angeles Orchestra. This was a time of apprenticeship, during which Lionel Bringuier worked on his scores and forged his style, which he assimilated to the famous authority attributed to orchestra conductors "We tend to associate authority with tyranny, I give another definition to the authority of the conductor, which results from his ability to convey a message to the musicians, to be sufficiently didactic to allow them to enter the world of the conductor. An aura that all great maestros possess, as Lionel points out : "From this fusion with the musicians results a great friendship, it is always with pleasure that I find the musicians of the orchestras which make me the pleasure to invite me ".
Gustavo Dudamel : The exemple
With the arrival of Gustavo Dudamel, at the head of the Los Angeles orchestra, Lionel became the second conductor. For more than three years, the two men got to know and appreciate each other:"When Gustavo arrived in 2009, I was able to bring him my knowledge of the orchestra. I rehearsed the works that he interpreted. I learned a lot from him. His hard work helped me enormously, and he was a very good example for me.
The two men have an excellent rapport and we continue to have a great friendship.
Since then, Lionel has been invited by many national orchestras. In February 2021, he spent two weeks with the Polish National Orchestra, with whom he performed a work by Brahms, Poulenc and Stravinsky's Firebird. In June 2021, he will meet again in Nice, Gautier Capuçon for "the orchestra at school"in collaboration with the Opera. An operation to introduce the youngest to classical music. A project that is particularly close to his heart, because thanks to the "Sistema" educational and social project, Gustavo Dudamel was able to learn music and the violin through the program. We bet that "Orchestra at School" will reveal the talents of tomorrow.
Lea Raso Della Volta