Who run the world?… Boys and girls! Gender equality was one of the main topics discussed on Thursday, on the first day of the World Fair presenting solutions for the planet. ChangeNOW gave the floor to various inspiring actors around strong topics, such as female entrepreneurship, access to education for young girls, the fight against domestic violence or against gender-based violence.
Digital Equality For All: yes to business women!
"In South Africa, only 6% of CEOs are women. This is not enough! Yet 58% of African entrepreneurs are women. In South Africa, the number of female entrepreneurs is still decreasing, falling to 19%. "From the very first conference, Nadia Mannell put her cards on the table. The Director of Investor Relations at Vitality (a business gas pedal focused on women) reminded the audience of the importance of taking action to support women and provide them with the necessary resources.
The company continues its efforts in this direction, with the launch in June of a platform dedicated to women entrepreneurs on the African continent. Its aim is to support them and facilitate their access to networks. Thanks to this new community, they will be able to present their projects, or meet other women entrepreneurs, in order to share experiences and advice. A helping hand to help each one verbalize their actions and their desire to become a woman leader.
The ideal opportunity to create models, mentors, and inspire others. This project is of course welcomed by the global Women In Tech movement, which promotes diversity in the IT industry. The "Digital Equality For All" session also reminded us that Africa is a country full of girls and women with great potential, for whom opportunities have yet to be created. Easy access to computers and learning to code are two assets for future generations.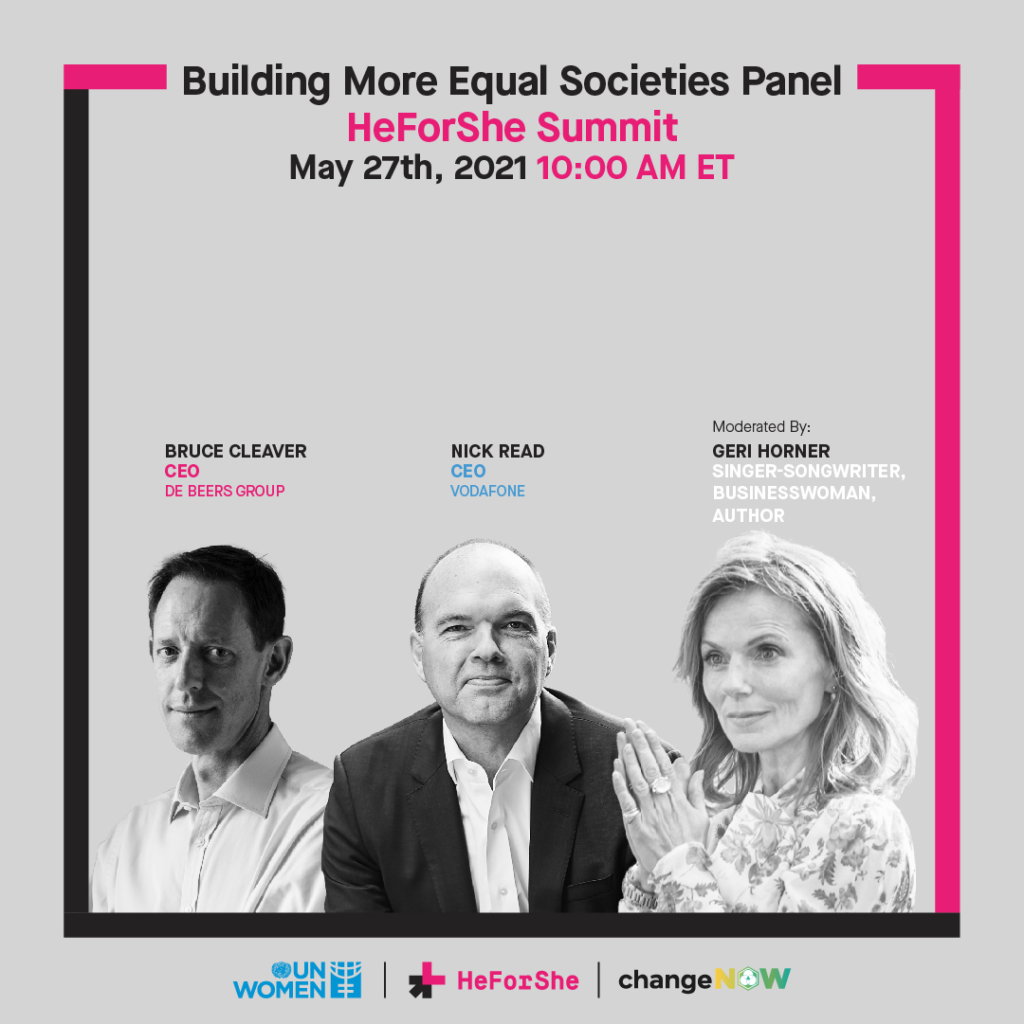 A New Summit for HeForShe
HeForShe, a solidarity campaign for gender equality launched by UN Women, was also present at the meeting. This 2021 summit gave rise to some fascinating conversations. On the agenda, among other things: ways to eliminate the wage gap between men and women, to encourage the place of women in leadership, but also on the role and responsibility of men, or on different ways to fight against violence.
Heads of State and business leaders, in their capacity as "HeForShe Champions", shared their experiences and solutions implemented to promote gender equality within their countries or organizations. For example, Guðni Th. Jóhannesson, President of Iceland. He recalled that his country is the first in the world to require that companies and institutions with more than 25 employees and working full time, with contracts of at least one year, pay men and women equally for the same work.
The French-speaking world has not been left behind, as Canada has also entered this race. Justin Trudeau, Prime Minister of Canada, has announced an investment in a pan-Canadian network of affordable, quality early childhood education and care services. This will make it easier for women to enter the workforce. A national action plan is also being launched for Canada's women entrepreneurs, aimed at ending gender-based violence. In addition, Canada continues its feminist international aid policy to ensure that the rights of women and girls are respected around the world.
While all stakeholders agree that "there is still a long way to go," several achievements are worth noting. Bob Moritz, President of the global audit and advisory network PwC, announced that almost 80,000 male employees are now allies in the HeForShe campaign for gender equality. In addition, thanks to their data-driven approach, the percentage of women in their global leadership team has increased from 18% to 47%. A certification is soon to be implemented to recognize the initiatives of PwC employees.
At Schneider Electric, the emphasis is on "education to fight against misconceptions", as Jean-Pascal Tricoire put it. A benevolence and a change of mentality that highlights equal opportunities for all, but also an awareness of other types of violence experienced by women: sexism, harassment and domestic violence.
The telecommunications group Vodafone, for example, has taken the side of women with the creation of an application to help victims of domestic violence. A platform that has 100,000 female users since 2019. This number has unfortunately increased since the beginning of the pandemic and the various confinements.
All the interventions during this summit have once again proven that it is time to end toxic masculinity. Covid-19 threatens what has already been done in some countries to promote equality. Now, more than ever, it is important to redouble our efforts to move towards equality in every sector, and also to make it easier for women to reach positions of high responsibility.
Women for Change: not giving up
HeForShe is calling on everyone's solidarity by launching a new campaign to join the movement and make your country or organization a major player in the fight for gender equality.
La session de Women for Change a encore une fois rappelé l'importance de l'empowerment féminin, sans oublier la nécessité pour les femmes de se sentir légitimes et capables d'accomplir de grandes choses, peu importe l'environnement dans lequel elles ont grandi.
L'Inde, le Japon et l'Afghanistan sont des pays où le travail paraît plus difficile, mais pas impossible. Le manque d'accès à l'éducation ou la forte hausse des violences, dues aux confinements successifs, ne doivent pas stopper les efforts de tous. Shabana Basij-Rasikh, co-fondatrice et présidente de SOLA, une école de leadership en Afghanistan, symbolise tout un espoir :
« Il est inconcevable de revenir en arrière maintenant. Une école pour filles a été attaquée récemment, et pourtant, elles ont dit qu'elles y retourneraient dès que possible alors qu'elles étaient encore sur leur lit d'hôpital. Être à nouveau attaquées ne leur fait pas peur, car elles ne renoncent pas à leur éducation, alors nous n'avons pas le droit d'abandonner. »
Mélanie DOMERGUE
Infos : Pour consulter la liste de solutions mises en place dans le cadre d'HeForShe :
https://www.heforshe.org/sites/default/files/2021-05/ypo_financial_times_-_a_global_imperative_gender_equality_in_the_c_suite_report.pdf