The presidential election requires an assessment and investigation of the current President of the Elysée, Emmanuel Macron. Off Investigation's team, a new medium online, launched a campaign to finance their own investigation. Its founder, Jean-Baptiste Rivoire, assures that the entire investigation will be released before the election's first round. Rivoire, a former journalist for Canal+, talks about the increased difficulty of conducting investigations in media companies held by billionaires such as Vincent Bolloré or Bernard Arnault, risking censorship, but believes a new generation of independent media, emerging on the Internet, can disrupt mainstream press since the public wants to see investigations on the circles of power. Interview.
Feat-Y: Why have you chosen to investigate Emmanuel Macron in the lead-up to the presidential election? How does it differ from previous investigations on the current President, carried out by several of your colleagues?
Jean-Baptiste Rivoire: Back in 2016 at Canal+, I was deputy editor of the investigation, we tried to conduct some investigations on the results of the Hollande five-year term. The management, appointed by Vincent Bolloré, prevented us from carrying out this work. After five years behind bars, I decided: "We'll try to do a report on the current president's five-year term". Here, it's Macron. We drafted a project. It has been sent to all the channels. M6 said: "We won't go into politics, except with Karine Le Marchand". TF1 said: "We already have a project, albeit a little different". France Télé said: "We already have three 52. We won't do more". Arte said: "The Germans wouldn't be interested". Netflix said: "We don't do stuff about politicians in office". We didn't feel very welcome, we'll say. So we turned to crowdfunding and said, " Nobody wants us to scratch Macron, so let's do it together ". Good news is, a lot of people responded. We will soon reach 210,000 euros. We will succeed in crowdsourcing this independent series on the president.
Afterward, compared to previous investigations conducted by very good journalists like Marc Endeweld, Gerard Davet and Fabrice Lhomme, knowing that Marc Endeweld has been working for five years on Macron and his networks. We' re a slightly different story. We do mainstream broadcasting. The first episode, the Kohler affair, the scandal that threatens Macron, has been seen by 1.4 million people on Youtube. What we're trying to do here is to explain to a very wide audience how the heart of the State works under the Fifth Republic. Then, when colleagues are kind enough to enlighten us, we interview them. We have picked up some angles. Marc Endeweld has done three very complete books on the Macron networks. We have done, for example, Gilets jaunes, le maintien du chaos. An investigation on the maintenance of order during the revolt of the Yellow Vests. We're going to make Hospital, the Republic in breakdown, about 20 years of public policies that have brought the hospital to its knees. We're going to do Alstom, France for Sale, to look back at how France lost an industrial flagship in 2014, to the Americans, with lots of conflicts of interest, lots of money handed out to buy up a bit of everything in Paris at the time. We took nine angles. We're going to take others. We're just trying to take a somewhat free and critical look at this president
Feat-Y: Together with the Off Investigation team, you report having received refusals of financial support from several broadcasting channels. Does this imply fear, a self-censorship that has been set up in relation to your investigation?
J-B.R : You should know that each year hundreds of documentaries are sent to the channels. Statistics show that there are 10 to 20 times fewer slots than projects. It's normal that most projects are rejected. The problem is statistical. Personally, when I was on the broadcasting side at Canal+, we received 200 projects for 20 slots. In fact, refusing a project is not necessarily significant.
However, after 20 years in the world of television, I believe the private channels are careful not to disturb the president because they need the Élysée to help them in a certain number of cases and that public broadcasting in France relies too much on its guardianship, on the licence fee, on the government. Supposedly, the directors of public broadcasting are appointed in total independence, although this is a fiction. The CSA does not really do its job. It's the Conseil supérieur de l'assoupissement. Everyone is afraid to mess with Macron, especially the public service. In fact, it's just a way of objectively looking at his record, with distancing and criticism. Sometimes we get subjects that are a bit hard hitting, that can embarrass the executive. Everything is not black and white. At France Télévisions, some journalists do a great job. I'm thinking of Cash investigation or Complément d'enquête. They have recently hooked the spin doctor of the Elysée, Michelle Marchand, whom the Macron couple placed at the heart of the State. But overall, we feel like it' s more complicated, in the big media, to disturb the political power. If you have to get out of the system, if you want to appeal to the public in order to succeed in doing your job, let's do it. All the fundraising efforts of the independent media in recent years have been a success. It reflects the fact that French people are fed up with the mainstream media, which tend to protect power or to be instrumentalized. People really need journalists to do an independent job.
Feat-Y: Afterwards, you have launched a crowdfunding campaign which has been very successful. Does it give you hope that the public wants to know about the circles of power?
J-B.R: Totally! If you prefer, this locking up of information in France does not come by chance. The few industrialists who have influence, who need the support of the State in their business, control a certain number of media brands that have credibility. But why? To gain influence over politicians and opinion. To push opinion to go one way or the other. And people sense this enormously. People also feel the fact that the government is not reforming the public broadcasting system, in order to make it more transparent and democratic. And when people from all the provinces of France go out in the traffic circles in 2018, to try to make the president understand that they can no longer fill their fridge, to put gasoline in their car and that there must be millions of people who go out in the street so that, perhaps Emmanuel Macron understands, there is a problem of dysfunction of the Republican pact. The press should have warned about all this much longer ago. What it has not done sufficiently. It is even worse than that. When these populations took to the streets to say that there was a problem of discrepancy, that there was no longer any way to make ends meet, the press only saw the side of "these are the thugs, it's the extreme right, etc.". A part of the press has contributed to try to discredit this popular movement. This is unbelievable. At some point, yes, people are very angry. They feel that most of the mainstream media is no longer dealing honestly with the situation. And yes, they are willing to put their hands in their pockets to fund independent media. In some demonstrations today, journalists are asked: "If you are an independent media, I'll talk to you. If not, I won't talk to you". There is a lot of anger against journalists who don't do their job and against elected officials. There are 300 complaints of violence against elected officials, recently. By dint of allowing a system that is no longer democratic to drift, people are mad as hell. We must listen to this anger and understand why it is there.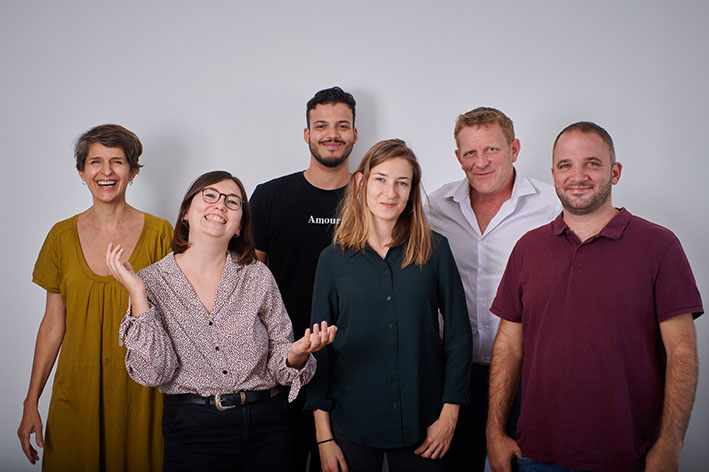 Feat-Y : Are other inquiries in preparation on the side of Off Investigation?
J-B.R : We are very careful about a thing. As we appeal to the population, we want to be square in the way we ask for money from people. For example, I am being sued by Bolloré. My personal money will pay the legal fees. We don't mix things up. All the money collected for the series will go to the series. And above all, we promised that, if we reached 200,000 euros, we would release it before the presidential election. We will have accomplished a contract with the people who supported us. Afterwards, once the trust is respected, once we have done what we said we would do, we can imagine that in mid-2022, we could start again on new projects. The problem is to find an economic model. Either we re-launch a fundraising campaign. We could do this endlessly. However, it is a bit tiring. Or we could create a subscription system for people who would like to support the project, who subscribe on principle, even if it means reserving part of our content for subscribers. We will think about this model in the next few months. We are slightly optimistic because the anger of the population is so strong I think that French journalism will be rebuilt by independent media.
Feat-Y: As compared with your beginnings in journalism, do you believe there is a deterioration in journalists' ability to work properly in editorial offices? If so, how would this be explained?
J-B.R : A colleague of mine, Élizabeth Drévillon, has created a union with 350 documentary filmmakers called GARRD. This syndicate has just conducted a survey of 350 directors, and the greatest documentary filmmakers are among them. Among them, 60% say that they practice self-censorship before even sending a project to France Télé or Arte. In other words, they know that a certain number of projects are not worth sending. When mainstream media outlets are complacent towards the powers that be, we say to ourselves: "Are the journalists asleep? But they' re not. They do want to do things. They have plenty of great ideas but they no longer send them out. That' s a serious matter. For example, in the audiovisual sector, which I am more familiar with, there was for a very long time a healthy emulation between the pirates of Canal+, of which I was a member at one time, Paul Moreira, Luc Hermann, very good journalists who created 90 minutes, who challenged the public service in 1999. In 2000, the buddies from France Télé Lucet and Brusini created Pièces à conviction, then Lundi investigation on Canal, Complément d'enquête, and so on. These two broadcasting poles generated a healthy emulation. We kept pushing each other so nobody would fall asleep, and that helped us with the management.
From the moment Bolloré switched off investigative journalism and most of the journalism at Canal in 2015, the friends at France Télé found themselves in a monopolistic situation. And this is never very good. And from 2019, Ernotte will unify the three windows, where producers could go to knock-knock at some, at others (France 2, France 3, France 5), she will create a single window for the documentary entrusted to Catherine Alvaresse, who is the goddess of all the documentary projects of France Television. And if it doesn't work with Catherine Alvaresse, it doesn't work at all. A monopoly situation is never good for information. It was absolutely urgent that independent media, like Les Jours, Mediapart, Blast, Le Média and maybe us, be created in the more rocky ecosystem of the web to come and challenge, a little, the behemoth of the public broadcasting. What we did for a long time at Canal+ in the 2000s. Now, we can't do it any other way than in the independent media because if there is only France Télévisions, it will be very complicated for journalism in France.
Feat-Y : What was the turning point in the decline of journalists' working conditions, in your opinion? Can we say that Off Investigation is a response to this degradation in the French press?
J-B.R : Totally. When 90-95% of documentary projects don't get through and as soon as you feel that it's a bit disturbing, as soon as it questions the official story, as soon as it upsets a politician, as soon as it pisses off a company, at some point, it's a no, it's desperate. I met dozens of directors and producers who are desperate, ulcerated, very angry and who can't say anything because if they say the slightest word that will offend the management of France Télévisions, they won't work anymore. It doesn't go well at all. Off, it's a kick in the pants, saying how important it is that we investigate behind the scenes of the president, however nice or pretty he may be. We're doing our job. He's a president. We're scratching around on him. I think we don't do it enough in France. Beyond that, the challenge of shedding some light on Macron's dark side, there is a second meaning to this approach. It is a provocative way of saying: "Look. The whole system is not taking this series. We're going to have it financed by the population and we're asking the question of the financing of information in France, of the financing of audiovisual in France. The French give hundreds of millions of euros in support to the press, most of which goes to large billionaires who have taken control of the newspapers. Bernard Arnault takes nearly 29% of this money, taken from the pockets of the French, to finance Les Echos and Le Parisien. I don't think it's urgent to fund Bernard Arnault for the population and for the taxes. There are also 140 euros of audiovisual fees per year and per French person. It' s a lot of money. Nowadays, people must be able to finance media that are a little more independent.
Feat-Y: Over the past few years, a number of editorial offices, like Le Monde and Libération for example, have drawn up ethical charters aimed at guaranteeing the independence of journalists from shareholders. Is this sufficient, in your opinion?
J-B.R : Depends on how much leeway is left to the editorial staff. If you have a fairly polite shareholder, like Xavier Niel, I think that, at Le Monde, they have implemented systems that go in the right direction and that are more effective than the systems implemented by Vincent Bolloré at Canal+. These billionaires are not all the same. Niel is generally more respectful than Arnaud Lagardère or Vincent Bolloré. If you have room for maneuver with these ethical charters, it' s good. But if you have a totalitarian shareholder, you can' t do it. I remember that 120 colleagues from I-Télé went on strike for 31 days at the end of 2016 just to get something to work with in the framework of an ethical charter. What is the minimum for a journalist. Submit to a professional deontology. But even that was impossible. They wanted not to mix information and communication. The management blocked this, saying: "Go on strike for six months, if you want. But we don't care. They have been refused to work in a certain deontology.
Those keys, which were put in place by the Bloche law of 2016 are a smokescreen set up by François Hollande to pretend that he was interested in freedom of information. The reality of the situation is that shareholders are all-powerful, that the Loi Bloche, which provides in principle for the interests of a shareholder not to interfere with editorial freedom, is not applied, is not respected.
There are very few rules of the game. And the politicians don't enforce them. From that point on, I have little hope, even if things are going a little better at Le Monde or Libé, because they have shareholders who are a little more correct.
Feat-Y : Could you describe the most viable economic model(s) to allow journalists to investigate with no fear of censorship from their editors, live correctly from their work and play a role of counter-power?
J-B.R : As I was saying, the French population has reached such a level of anger that people understand so well that they are intoxicated that they are really ready to finance the independent media. The population doesn't hate journalists per se. But I think they hate journalists who don't do their job. Not quite the same thing. I believe independent media will revolutionize the system because if you are not financed by advertisers who censor you as soon as you disturb them, and if you can thumb your nose at politicians because you don't depend on a guardianship or a ministry, it's going to be complicated to prevent us from working. We simply have to be financed by the population. This promise must be clear, respected and from then on, I think that people will support it. Citizen funding is a tsunami. Look at Mediapart. When the media was created, people did not believe in it. Today, they have nearly 200,000 subscribers. They live very well. Le Canard enchaîné, which has always refused advertising, which works at a distance from political power, is a very successful newspaper.
I believe that credibility makes the population finance us and that there is a real economic model now in citizen financing. Before, it was called a subscription to a newspaper. Nothing extraordinary about that. It's just that it's been so perverted by advertisers and the weight of shareholders who seek to instrumentalize newspapers for industrial or political reasons, that they have destroyed the credibility of the brands they bought. We must recreate credible brands and forbid them to come and buy them. Bolloré or Lagardère or Bernard Arnault must not come and buy Mediapart or Off investigation tomorrow. It is better that we stay without them. We will live better, with better content.
Feat-Y: Everyone says that nine billionaires own, directly or indirectly, about 90% of the French press. Should we call on the presidential candidates to incite them to formulate proposals to fight against the concentration of the media according to you?
J-B.R : Of course! This is what Julia Cagé and Benoît Huet did in their last book L'Information est un bien public, by trying to confront the candidates with this question, so that they make commitments. In this case, the drift is such that the presidential candidates have to commit themselves. Unfortunately, I don't believe in it very much because these industrialists have taken so much weight, have such an influence on the media in France that someone who would like to go to the presidential elections, better be nice to these oligarchs because otherwise, he will have very little chance to be supported and to be on the front page of Paris Match, etc. We have a real problem with this. Politicians have let themselves be trapped. These people are taking so much space and power that today, they are obliged to show their credentials to try to be candidates. On the other hand, Macron keeps putting up smoke curtains. He has supposedly commissioned a report to reflect on fake news. Really, we are being taken for a ride! He works hand in hand with these big oligarchs. To take an example, the first lady of France, Brigitte Macron, the wife of the president, is dressed for free by the daughter of Bernard Arnault, of the LVHM group, the main group in France, which owns the Parisien and the Echos. LVHM is, moreover, the financier of the three training institutes presided over by Brigitte Macron, in Valence, Roubaix and Clichy-sous-Bois. In other words, when the president's wife creates a school, the richest man in France pays for it. At a certain point, either you are in business or you are in politics. I'm embarrassed that Bernard Arnault, who supports Emmanuel Macron, has gotten his hands on two important newspapers in France. The main economic daily and the main popular daily, is also the gentleman who finances the training institutes that the first lady wants to launch. At a certain point, I don't know if we are in a banana republic, but we are quite far from the France that I want to defend.
Feat-Y: It seems that Vincent Bolloré, the businessman, is suing you. Do you think he symbolizes in an extreme way a concentration of powers (economic, media) dangerous for the durability of a democracy?
J-B.R: Absolutely! I think he is a real predator of information, and thus, of democracy. It is extremely serious! The model of Vincent Bolloré, who is a shareholder taking control of the media, is not new. It is not only him. It is a more global systemic problem. True, in the case of Vincent Bolloré, he is so uninhibited that he violates all the rules of the game. It means putting pressure on people, harassing people so that they leave. To mock the ethics. Demand that we mix information and communication. I recall that, for example, at a time when he wanted to sign contracts with the dictator of Togo, the management of Canal, which he had appointed, deprogrammed a report that simply said that there were demonstrators in Togo who were being shot at by the police. This is what all the press was saying, by the way. It had to be rebroadcast on Canal a few weeks later. And as it was not enough, it was necessary to put the ointment on the Togolese dictator, the management of Canal made an advertorial for this dictatorship, which it aired on the sly, at seven o'clock in the morning, on the air of Canal. This was in December 2017. Not only must nothing be said about the powerful and tyrants. But in addition, they must be advertised. All this in total violation of the rules of the CSA, which makes that in France, normally, TV channels have a frequency, provided they respect some rules. It took an independent media, in this case Les Jours, to spot this story, to find the video and to strongly shake the CSA to manage to wake it up, because the CSA is the Superior Council of Drowsiness, so that after several months, the CSA says that this is not very good and that a press release should be issued on air. Vincent Bolloré doesn't care about this kind of sanctions. He is much more powerful and richer than that. If this is the only reaction the Republic has to such violations of the right to information, we are not out of the woods yet.
In addition, there will be a hearing of the eight billionaires in the Senate this week. One wonders if it will be effective. I have a slightly cruel memory, it is that in 2016, Vincent Bolloré and Maxime Saada appeared before the Senate, to express themselves following the obstructions that occurred at Canal+. They came to tell, hand on heart, that there had never been any censorship of the Credit Mutuel affair at Canal+. They were hardly contradicted. If you want, it would be nice if the French parliament could be inspired by what happens in the United States. That it be a little more able to investigate, to check the facts. Because if it is for these billionaires to parade in front of the parliamentarians explaining that they love freedom of information, we are not going to progress. It is good that the Senate has taken up this issue. It's good that the press is talking about it. I hope it will move. But we must not be naive. These people are powerful, liars and manipulators sometimes.

Interview by Jonathan Baudoin
Website: HTTPS://WWW.OFF-INVESTIGATION.FR/
Twitter: HTTPS://TWITTER.COM/OFFINVESTIGATIO