"My point is that recycled fur will save the craft"
by Jonathan Baudoin
Between industrial fur, based on fossil energy, polluting, and anti-fur, a third way exists and wants to be noticed and valued at its true value. Quentin Véron wants to highlight a production of furs entirely recycled and artisanal, and that this alternative that he presents since 2009 is the most likely to perpetuate the fur sector, in his eyes, during this exchange granted for Feat-Y. Interview.
Feat-Y : What is your background? Do you come from the fashion world?
Quentin Véron : I don't come from a fashion background at all. Basically, I come from the world of horseback riding. Both of my parents are in the riding business. My mother is an instructor and my father is a professional rider. I lived between the Auvergne and Fontainebleau. I went up to Paris because the fashion attracted me. But I was a little disappointed when I arrived, since we didn't do much studio work, but a lot of drawing in studios. Especially when I worked for Jeremy Scott in Los Angeles. I turned to fur because this workshop side reminded me, I don't know why, a bit of my father's stables.
"I was tired of seeing people wearing fake fur, which is a real disaster for the environment because it is plastic and oil."
Feat-Y : What led you to recycle fur?
Q.V : I've always done this. First for myself. I only wore vintage coats that I reupholstered a bit for myself. That's always what I offered to clients. It's just a relentless logic. It's the material that recycles the best and I was tired of seeing people wearing fake fur, which is a real disaster for the environment because it's plastic and oil. I wanted to show them that there is a more logical solution, which is to recycle old coats and make new pieces.
Feat-Y : How long has your brand been in existence and what have been the evolutions?
Q.V : My brand exists since 2009. The evolutions are quite simple, quite logical in fact. I started in ready-to-wear. Afterwards, when there started to be too many orders, I thought it was smarter to go into haute couture to reduce the number of pieces, because I've always been against over-consumption. No matter what it is. But even with couture prices, since I was doing fur, it wasn't really slowing down the number of purchases, so I decided to completely stop the showrooms, the collections, and switch to a private clientele. Since 2015, I'm 100% private clientele. I am 100% on the unique piece, custom made. I have a customer network that allows me to do only that.
Feat-Y : Have you developed partnerships with high fashion companies in France and elsewhere in the world?
Q.V : The fact that I was already a high fashion brand, it's a kind of partnership. I have a lot of people interested. I've already done fur for quite a few people. I think it's going to happen even more with recycled fur. It's just that, right now, people are still in a kind of anti-fur battle and aren't really open to another solution that is recycled fur. Public opinion thinks that fur is not good. They are not yet into the idea that there is a better solution than plastic. But it's coming little by little. There are vegans who are starting to support me, because they understand that plastic is not a long-term solution.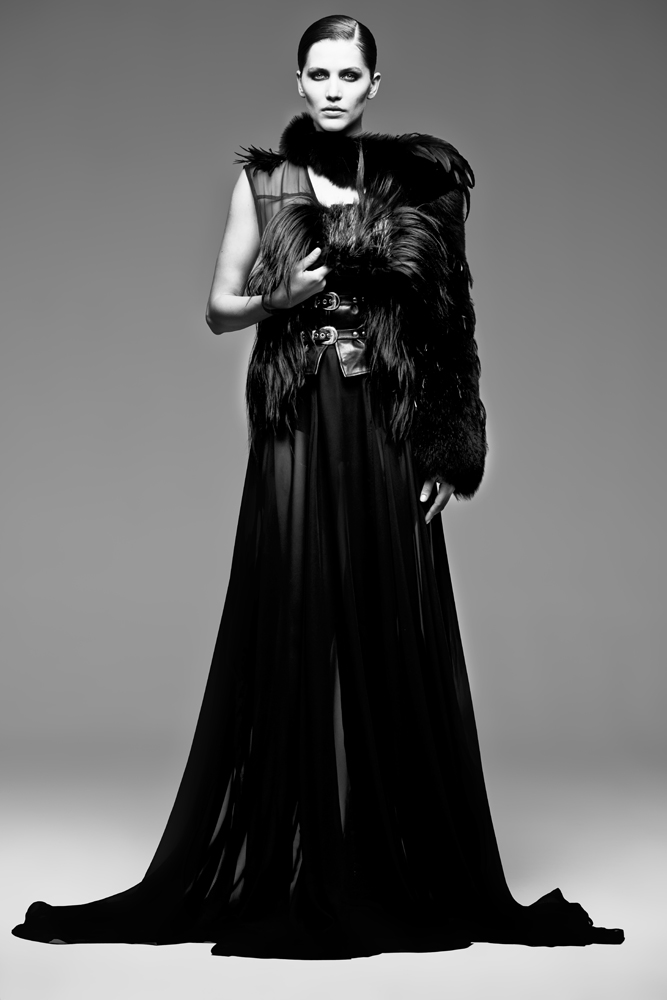 "I consider that fur must find its first goal and keep warm people who need it. I would love to do a charity project with my fashion brand. "
Feat-Y :Have you noticed an evolution towards more recycling and less waste in the fashion world in general, and in fur in particular? Do you think you have contributed to this in some way?
Q.V : In fashion, I think we all know that now it has even become a marketing argument. Which I think is good because it's logical, it produces so much, the fashion. There is a real evolution in fashion. In fur, the change is more complicated in fact. All the furriers and the other actors of the fur industry are, nevertheless, a little bit managed by the lobbies of the very rich merchants of skins, which allowed them to have a lot of help during years, and they are a little bit blocked with that. I've been completely independent since the beginning! I have never been close to these lobbies. I could really afford to put recycled fur and talk only about that. They were not happy at all when I started. I got slapped on the wrist. But I didn't owe anybody anything, really. And now I think I've contributed something because they're coming back to me, they're apologizing for being resistant, they understand that I was right. Except that, for me, the problem is not to apologize. It's about changing and evolving the way things are done. I think that I will contribute even more because I am one of the youngest in their universe who knows how to do everything. I know how to create and make fur. I'm a craftsman and that speaks to the old-timers. And I have the look and the age to talk to the younger ones. I think they're starting to understand that and they're starting to understand that they need to change their way of doing things and stop thinking about their skins and start thinking about saving the craft first! My point is that recycled fur will save the craft. Because the craft doesn't have to live only with new skins. It can live with recycled skins.
Feat-Y : What are your sources of inspiration for your creations?
Q.V : My inspirations are pretty simple. I'm inspired by Tim Burton basically. By Edward Gorey, John Bauer. All these artists, very poetic, who have a strong imaginary spirit. Then, the 19th century. Whether it's the cowboy side, the Victorian side, it's always inspired me. After that, it might sound weird, but I get a lot of inspiration from animals themselves. I'm a big fan of animal documentaries. There's a lot of mixing of materials that I do that come directly from things that I can see in nature.
Feat-Y : What are your future plans for your collections?
Q.V : What's going to happen this year is that my fashion brand, which is called Quentin Véron, will surely relaunch collections at the end of the year. With the Coronavirus, I don't know if it's going to be unblocked, but I'll probably relaunch collections. But just in a new form. I will surely do galas, auctions, with a large part that will be donated to associations. Because I consider that the fur must find its first goal and keep warm to people who need it. I would love to do a charity project with my fashion brand. Otherwise, I will continue my private clients. Currently, I'm on a three to four month waiting list for an order, because I have so many requests. And above all, the big thing this year is that I'm going to start a fur recycling company. We're going to set up a factory in Auvergne. We're going to organize the sourcing of vintage fur coats and the dismantling of the coats to resell them as raw materials. The project is called "VQ (or Vécu)". It will take shape this year. I found the place in Auvergne. It's where I am during the confinement. We are working on it so that recycled fur is presented as a raw material. So that people don't have to imagine that they have to take the coat apart and prepare it. Everything is prepared up front. They can buy the recycled skin like they used to buy skins back in the day!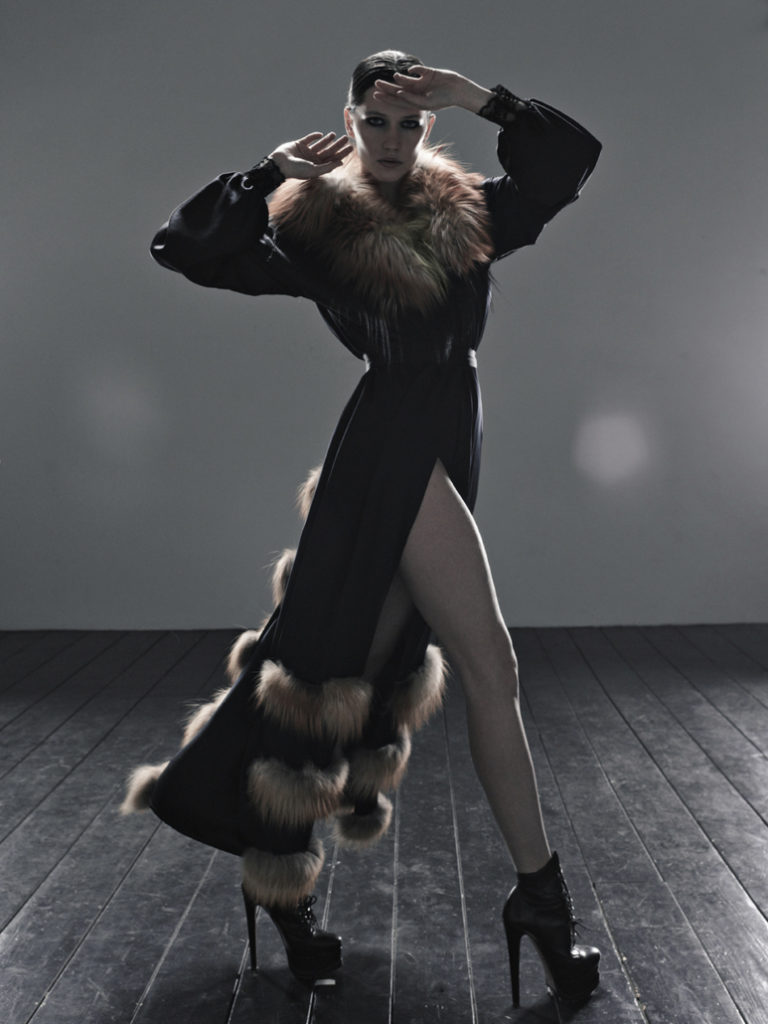 Feat-Y : If you were a movie, which one would you be?
Q.V : Dead Man, Jim Jarmusch
Feat-Y : If you were a song, which one would you be?
Q.V : " The Devil Wears a Suit and Tie ", de Colter Wall
Feat-Y : why?
Q.V : I like the atmosphere, the energy. Even the album cover, I think it's beautiful.
Feat-Y : If you were a historical figure, who would it be? Why or why not?
Q.V : It's hard! (He thinks) I would be Edward Gorey because he inspires me a lot with his drawings. He himself is the inspiration for Tim Burton. Then he always dressed with a fur coat.
Feat-Y : If you were a country, what would it be?
Q.V : It wouldn't really be a country. It would be more of a region of the world. I would be Scandinavia, I think.
Feat-Y :For the wintry, polar side…
Q.V : Yes. It's for the forest side. Then it is the side all the tales come from there. It is so poetic as region! I am from Auvergne. We have these forests, where there is an enchanted side. But then up there, it is another level!
Feat-Y : If you were an animal, which one would you be?
Q.V : A killer whale! I have a passion for orcas! I'm not a fan of water but I love orcas.
Feat-Y :If you were an era, which one would you be?
Q.V : The 19th century, I think.
Feat-Y : Compared to cowboys, to the Victorian style?
Q.V : I feel that at that time I would have felt at home. Whether in Europe or in the United States. Everything inspires me, everything pleases me.

Propos recueillis par Jonathan Baudoin
youtube: www.youtube.com/watch?v=X0FuieXZvK4
website: www.vecu-by-quentinveron.com
contact: vecu@quentinveron.com