Spring is here! Of course, the temperatures have dropped… Nevertheless, don't let the fumes of the rain spoil your good mood. When it permeates the earth, it leaves behind thissmell that we sometimes catch ourselves breathing. The leaves and the wood let escape intoxicating scents, volatile and yet so particular for each sense of smell. A scent almost as pleasant as that of lavender or thyme. So many scents that can easily brighten up a day!
Okay. If you know how to decode hidden messages, you have probably guessed the word that was hidden in this ode to nature (congratulations, Sherlock Holmes would be proud of you!): v – i – r – e – v – o – l – t – e.
Virevolte is the name of the range of organic (81% of the total ingredients are from organic farming) and vegan perfumes that Feat-Y presents today. Designed in Provence with 99.9% of natural origin and certified Cosmos Natural by Ecocert, they were conceived as a second skin to accompany women from day to day, and even throughout their lives. Many of us have a lucky fragrance. And yet, what a little disappointment when we smell it on other women too. It's one thing to see someone wearing the same dress as you, but it's another to feel like your identity is being stolen! Well, we're probably exaggerating a bit… But smelling your perfume elsewhere is like seeing what makes it unique in your eyes fade away.
Senses in every situation
Julie Desoomer understood the identity aspect of the perfume, and declined its scents according to our state of mind. "We don't always have the same desires or the same moods. Virevolte perfumes adapt to all the facets of our personality", explains the founder of the brand. Several years ago, the L5s boasted of being several women at once… It's now possible for you too, all in sensuality and subtlety.
Noir Délit represents the Muse woman, the one who wants to be fatal, with a greedy and addictive perfume, with notes of cocoa and tonka beans.Rose Métamorphose is for the Nymph woman, soft, bohemian and romantic, wrapped in citrus and rose nuances. Orée Dorée symbolizes the Goddess woman, radiant and glowing, whose warm halo is also sophisticated, between delicate white flowers and apricot pulp. Finally, Vert Désert recalls the Fauve woman, playful and fiery, with more woody scents, between bergamot and ginger.
"A client told me that she wore Vert Désert when she had battles to fight," says Julie. Wear your perfume like a suit of armor, draw all your strength from it and then breathe in the scent of victory. Each moment has its own olfactory universe: a great way to create more memories!
Respecting biodiversity and people
At this point in the article, some of you may be wondering about the remaining 0.1% in the composition. It is a denaturant of synthetic origin, dipped in the organic wheat alcohol to give the product a very bitter taste. The goal, to make so that a child or an animal spits it very quickly, in case of accidental ingestion. Let us also specify that Virevolte products are not tested on animals, and do not contain any ingredient of animal origin.
A strong commitment for Julie, who intends to respect biodiversity and human beings throughout the creation process. Nature and human know-how are found in every milliliter of Virevolte perfumes: a concentrate of perfume, organic wheat alcohol, water, and that's it. At the heart of this mixture, essential oils, natural extracts of fruits, flowers, woods, spices, resins, and a bit of the passion of each person who participated in its conception.
Virevolte is also a human adventure. Many fields and perfume plants are maintained by small families, whose delicate gestures and knowledge are passed on from generation to generation. "The harvesting of raw materials is done with the heart. All these families take considerable risks: after a frost, a field of roses can be destroyed…", reminds Julie. To own a Virevolte perfume is to bring these personalities and this heritage to life, and above all, to take a piece of nature with you wherever you go. Reconnecting to your roots, and therefore, to your deepest self.
Perfumes that make sense
The proof (if it were necessary to say it again) that nature is your friend and that it wants you well! Think about it if you see a leaf or a butterfly fluttering in front of you… Julie had a realization when she became a mother for the first time. "I could smell my perfume on my baby's skin, and I didn't like it. "At the time, she was already working in the cosmetics industry, and what she found in the composition of traditional perfumes did not surprise her. A lot of chemicals, little natural.
"I tried to turn to natural perfumes, but they lacked subtlety for my taste. I then perfumed myself less and less, and then a professional opportunity presented itself to me to create my own company. "Today, Virevolte perfumes accompany women through their metamorphosis, but they could soon be extended to men.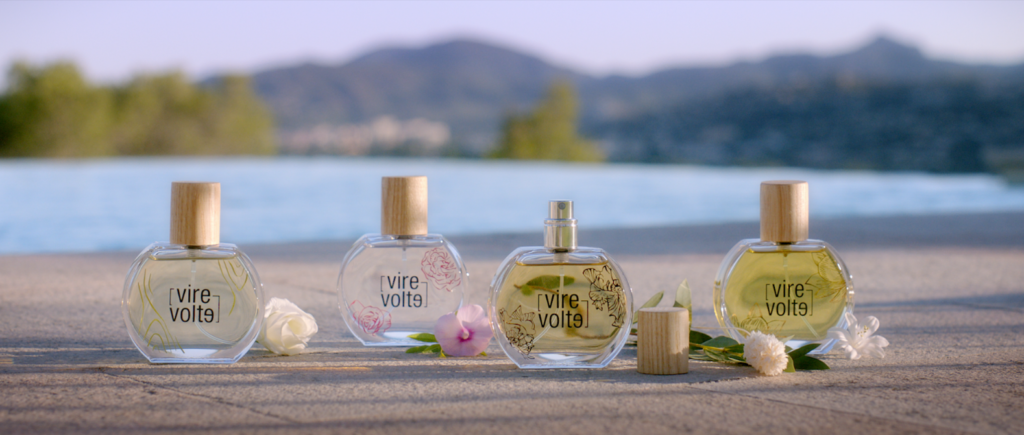 Mélanie DOMERGUE
Infos :
website : https://parfumsvirevolte.com/
Facebook : https://www.facebook.com/parfumsvirevolte/
Instagram : https://www.instagram.com/parfumsvirevolte/