The bee is a precious animal species for humanity, and this much more than we might think. According to Michaël van Cutsem, co-founder of BeeOdiversity, in this interview granted to Feat-Y, the bee acts as a "natural drone" that can collect data on the environment through the pollen it collects, allowing this Belgian company to analyze the pollutants present and to propose solutions to companies, public administrations, and farms, for more biodiversity while generating economic value. Interview.
Feat-Y: What were the reasons that led you to found BeeOdiversity?
Michaël van Cutsem: BeeOdiversity's raison d'être is to regenerate biodiversity while creating value. It is urgent to commit ourselves to biodiversity given its decline and we tend to abuse it to generate value. At BeeOdiversity, we believe that there is a way to create value by preserving biodiversity. This is why we propose to companies and public authorities to engage in this direction, to regenerate biodiversity, to decrease industrial and agricultural pollutants, while creating social, environmental and economic value for their activities.
Feat-Y: From the name of your company, we can assume that beekeeping is important to you and what part does this sector represent in the overall activity of BeeOdiversity?
M.vC: We have developed a tool, called BeeOmonitoring, which allows us to monitor the state of the environment, biodiversity, industrial and agricultural pollutants via the bee. The bee is at the heart of our activity. It acts a bit like a natural drone. To feed, it collects pollen from a large area and brings it back to the hive. We will then be able to collect and analyze this pollen. Since it contains the DNA of the plants, we can identify the species present in the monitored area, note the deficiencies and propose solutions for the whole ecosystem as well as impact indicators. This pollen also contains industrial and agricultural pollutants. We also draw up an inventory of the pollutants present, the type, concentration, origin and suggest solutions. The bee therefore provides data that allows us to develop projects favorable to biodiversity, to measure their impact, to protect water catchments, to improve agricultural practices, to measure the quality of the air in cities, to change industrial processes.
Michaël van Cutsem: "The Bee acts like a natural drone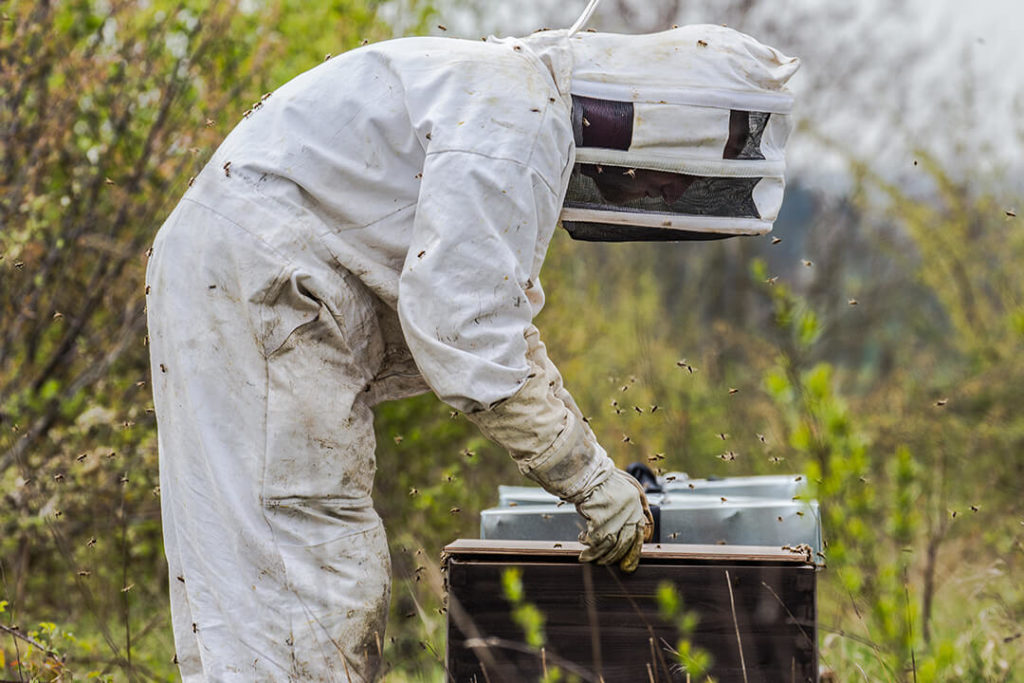 Feat-Y: What services does your company offer to enable companies, administrations or farmers to produce in a more environmentally friendly way and what is the methodology used?
M.vC : We intervene at different levels. At the strategic level, we help our clients to integrate biodiversity into their strategy, to evaluate the impact of their activity, to define indicators, to set up action plans to preserve biodiversity and to valorize its services with regard to their needs. At the operational level, we measure the state of biodiversity and pollution on site using various tools and methods such as BeeOmonitoring. In a second phase, we recommend highly targeted improvement measures based on the data collected. In a third phase, we implement the recommended actions and provide impact indicators. This can be in the form of improvements that enhance the value of an asset and strengthen the well-being of employees, their ability to concentrate and their performance; or support for better agricultural production while limiting pesticides, and so on
Feat-Y: Is the main part of BeeOdiversity's work to be seen in the services you offer to companies, public administrations, farmers? If yes, to what extent?
M.vC: Indeed. These data and our expertise have allowed us to improve the environment and air quality of cities by limiting budgets, to protect resources such as food, water, etc., to improve food production, to help industrial, real estate, quarrying and other partners to have a positive impact on the territory, their stakeholders and their business. We have also developed a specific design for care facilities that helps reduce the effects of diseases such as Alzheimer's, Parkinson's, and the risk of falls. We will launch innovative tools for citizens and other stakeholders at the end of 2021 to also help them take action.
Feat-Y: How many projects have been conducted or supported by BeeOdiversity since its foundation and what observations have you made about the evolution of those who have requested your company?
M.vC : We currently carry out about 100 projects per year in nine countries in Europe and the United States. This represents more than 70,000 hectares of impacted surface per year. Initially, the sectors involved were limited to agribusiness, water, real estate, etc. Since 2020, however, we are seeing many other types of companies and communities getting involved because they understand how essential this is becoming, including for their business. We are convinced that biodiversity is the issue of the future, whether for local authorities, economic players or citizens, and all the indicators point in this direction. It is motivating to see that each year our clients go further in terms of actions or impacted sites: one city has quadrupled the number of plant species on site. We have reduced the number of pesticides identified annually in agricultural areas from 25 to 7. Industrial companies have changed their processes to limit emissions of heavy metals. We feel a real awareness.
Feay-Y: Can the current legislative context, such as the climate change bill in France, combined with the sanitary situation, serve as an opportunity to better promote your company's proposals?
M.vC : Today, biodiversity is at the heart of discussions. Numerous events such as the World Conservation Congress in Marseille, the COP26 and others will address it as a priority with, we hope, political commitments. European regulations are also moving in this direction. The pandemic seems to accelerate this reflection, so much the better. It is therefore obvious that obligations and incentives related to biodiversity will be introduced in the coming months, which will involve more players. Visionary actors have every interest in anticipating this trend. This is positive for our business but also for the environment and future generations. It is absolutely essential that the political world takes hold of the subject with a long-term vision.

Interview by Jonathan BAUDOIN
website : https://beeodiversity.com/fr/
Facebook : https://www.facebook.com/BeeOdiversity/
Twitter : https://twitter.com/BeeOdiversity