Summer and its heat are approaching fast… It's great, but it's also important to stay well hydrated! Feat-Y shares with you one of its favorites to accompany you on the beach: Les Breuvages Audacieux by Gaspard and Antoine. Baga is a range of naturally soothing drinks with CBD extracts. Produced thanks to local actors, French suppliers, and bottled in Nouvelle-Aquitaine, Baga drinks are eco-responsible and made from natural ingredients. Gaspard Duval, co-founder, came back for us on the beginnings of the very first French CBD Drink.
Feat-Y: How did you discover CBD?
Gaspard Duval: My partner Antoine Grenier and I discovered it almost 4 years ago, during a specialized training in entrepreneurship. We were looking for an alternative treatment for an autoimmune disease that I suffer from, universal alopecia. It's an immune system disorder: my lymphocytes cause inflammation of my hair follicles. At the time, I was under the care of various hospitals and was treated with immunosuppressants. However, there were a lot of side effects, and I wanted to switch to a more natural solution for my disease, and to mitigate those side effects first.
We already knew that THC (the main molecule in cannabis) was anti-inflammatory, so we were able to make a connection with my disease. However, I didn't want to treat myself with THC. Through our extensive research on hemp, we discovered that there are about 100 cannabinoids in the hemp leaf, including CBD (Cannabidiol), which may regulate the immune system.
Feat-Y: The consumption of CBD is becoming more democratic today, but this was not quite true 4 years ago…
G.D.: At the beginning, it was indeed difficult to find it on the French territory. I first tried sublingual oil, bought on the internet. The molecule of CBD is then dissolved in an oily support, and a few drops are to be deposited under its language to feel the effects of CBD. The disadvantage is that hemp oil has a very bitter taste. There have been some improvements in my illness, but mostly we've realized that CBD is particularly effective in combating anxious behavior.
CBD also comes in the form of dried flowers, to be consumed as an herbal tea or spray. These two products are effective, but they do not allow the democratization of CBD to the general public, since they are not easy to use. They cannot be consumed all day long, nor in any context! So we had the idea to develop a healthy product, pleasant to the taste, accessible and to find everywhere to democratize the use of CBD!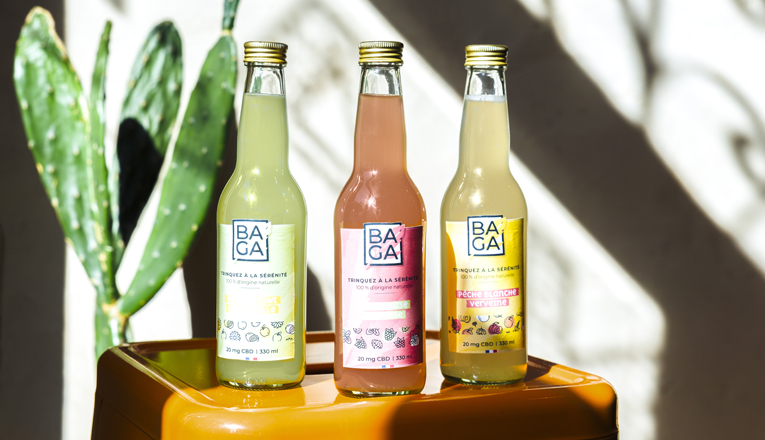 Feat-Y : Why did you choose to integrate it in a drink?
G.D.: It was obvious! This project started as soon as we finished our training. In October 2019, the articles of association of our company were filed, then a research and development phase began with the AGIR Technology Resource Center, located in Pessac (in the Bordeaux area) and specialized in emulsions.
The choice of this partner was obvious: CBD being liposoluble, it can only be mixed in fats. It was therefore necessary to develop a process allowing us to mix it homogeneously in water, to maximize its bioavailability. This R&D period lasted 9 months. We thus developed the formulations of a range of three flavors: white peach/verbena, raspberry/melissa and apple/kiwi/camomile. All the ingredients used are of natural origin!
The formulations were finalized in August 2020, and then we launched a crowdfunding campaign in September, thanks to which we raised over 17,000 euros. This amount then allowed us to produce a first batch of 15,000 bottles in early October! They sold out in 4 months, and we produced another 50,000 bottles in mid-March 2021. A new batch of 50,000 bottles will be released in July 2021.
Feat-Y: How did you find the right matches between the different flavors?
G.D.: It's very experimental! First of all, everything started with mixtures of infusions and fruit juices, which enabled us to draw up specifications for the AGIR Technology Resource Center. They then sourced the raw materials from French suppliers, before proposing formulations to create our drink. From the beginning, our goal was to combine a plant infusion with a natural fruit flavor.
Feat-Y: Who is Baga aimed at?
G.D.: Our target audience is mainly urbanites aged 25 to 44. Baga's clientele is rather mixed! Our drink is particularly aimed at young people who want to reduce or stop their THC consumption, or who are under a lot of stress during their studies or their first professional experience. It helps the consumer to relax. It can also be useful for the muscular relaxation after a sporting activity, or for the old people. Indeed, in some cases, their doctor can recommend them CBD, which alleviates their chronic pain!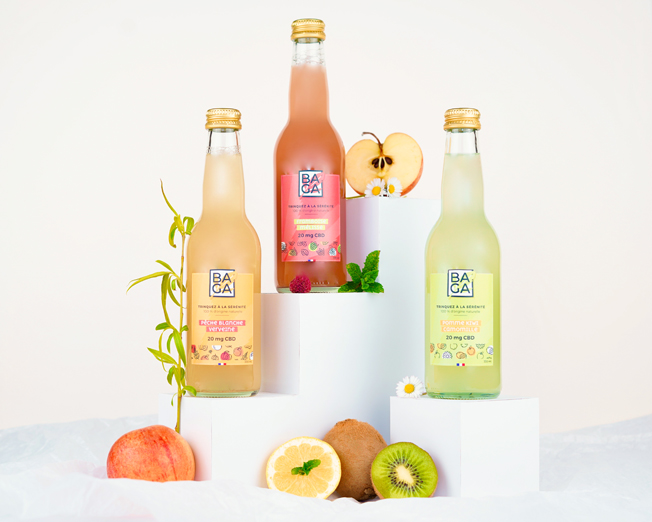 Feat-Y: When to consume these drinks?
G.D.: All day long! They are light, thirst-quenching, and therefore ideal for the summer. Moreover, they are not very sweet, since they contain only 2% fruit sugar. We used grape extract, which is also very low in calories.
Feat-Y : Where can we get it?
G.D.: Individuals can find our bottles directly from our online store! Baga is mainly found in a prescriber network composed of stores specializing in CBD products. Since the beginning of the year, our brand is also starting to be referenced in the CHR, and more particularly in fast casual restaurants, offering a fast but healthy food.
Feat-Y: Do you have any projects in the pipeline?
G.D. : We are working on new formulations and other flavors! This time, we could offer sparkling flavors. At the same time, we are preparing new packaging, so that they remain ecological, but also convenient to store and transport. Producing a drink is a vast process, with many possibilities: varying the dosage of CBD, the volume or the material of the containers, the flavourings…
Interview by Mélanie Domergue
Infos :
Site internet : https://www.baga-boissons.com/