A creative movement from the African continent is blowing through the fashion world. From now on, famous designers are showing up, and Yhebe Design, created by Rebecca Zoro, is on its way to becoming the standard bearer of this rising generation.
She chose to name her brand "Yhebe Design", a mysterious name for the uninitiated, yet none less than Rebecca Zoro's father's name when she was a child. "Even though I was named Rebecca, he called me Yhebe and since I love him, I thought it was original to call my brand Yhebe Design," says the designer.
In the Gouro language (editor's note: spoken in Côte d'Ivoire), it means " you shall see ", a slightly premonitory name that testifies to the unfailing faith of a father in the talent of his daughter, as well as the ability of the Gouro women, with their strong temperament, guardians of spirituality, and holders of the secrets of the secret society, the Knè, which gives rhythm to the religious life of the group to which they belong.
But above all, Yhebe Design carries the identity of its fashion house, which combines modernity and culture of its native Ivory Coast.
A natural born creative.
At 25 years old, Rebecca was wondering where she wanted to live: "I remembered that I loved designing clothes and felt great joy and satisfaction from it:
"I became a fashion designer out of love and passion. Even as a child I loved to dress my dolls. I used to make them out of banana peels and dress them in paper dresses. It was a real passion for me. I always wanted to do this. I knew I could do it, so I went for it."

In 2014, she began training, which sounds like a journey of initiation and, just like a journeyman in petticoats she went on a world tour to acquire the technique:
"I started my training in 2009 at Momo Design in Les Deux Plateaux. Then I went to Alby in the United States where I stayed for two years. At the end of my studies in Alby, I did an internship at Kora Diop, a fashion designer in Marcory (Abidjan).
She then left her native Ivory Coast to go to Morocco to study at LaSalle College, which trains in fashion design. She spent a year studying there, and then left for Ghana, where she attended an English language course at Collor Drop, where she learned computer design techniques.
But these peregrinations do not make her forget essential, the creation of her own brand. So, back in Abidjan, she decided to launch her own brand.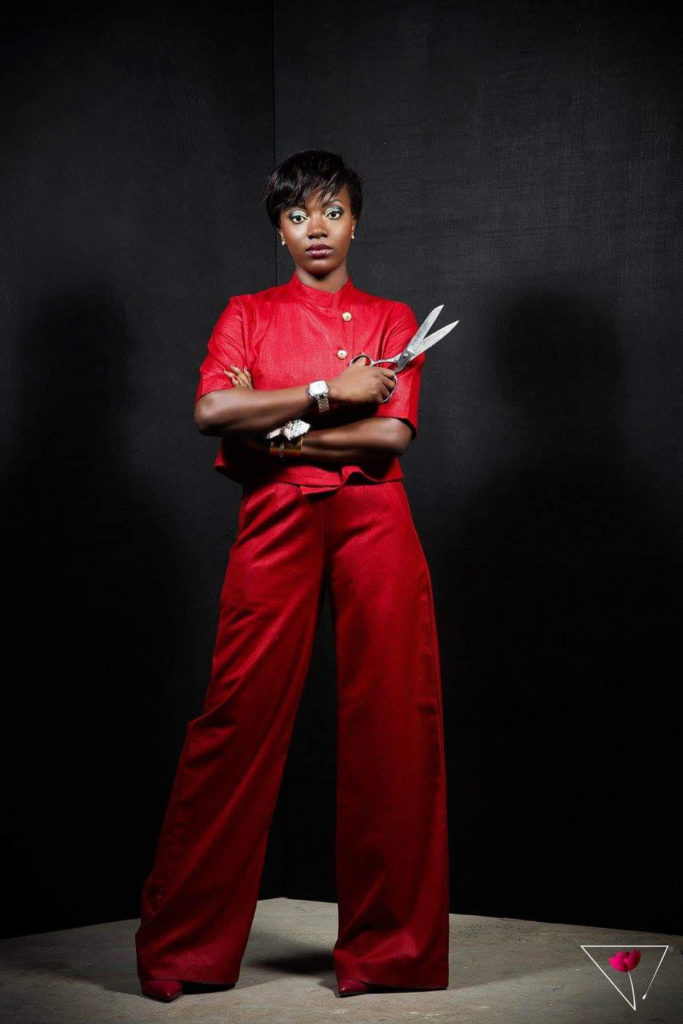 Yhebe, first and foremost from Côte d'Ivoire
Rebecca feels the pulse of Abidjan, nourished by the diversity of colors and traditional ethnic materials of the Ivorian people. She defines herself as a culture passer, as through her creations, she passes on an ancestral knowledge, whose custodian she is.
Ever since the beginnings of Yhebe Design in 2014, she has received support from her father and her spouse, but she admits that not everything has been easy:
"When I started attending school, for my professional training I got some people, who told me fashion design is not for women, it's a man's business, but I never let myself be discouraged because I felt deep in my soul that I had something to show the world what I was capable of, to combine the know-how of my ancestors, but also to marry the colors specific to the African culture, to modernity."
And this encounter of traditional and modernity will appeal to the singer Beyoncé.
Beyoncé wears Yhebe!
This meeting, Rebecca saw it as an endorsement, a recognition of her talent, as she likes to say "The fact that Beyoncé wore my clothes was like a certification of quality and talent. With her I made the brand known internationally. And as she talks about Beyoncé, she unrolls the film, minute by minute, a blessed moment that she replayed over and over:
" I met Beyoncé through my public relations officer, Anna Toure, the Beyonce staff informed her that she was interested in an Adjoua skirt, and if Rebecca would agree to send it to her? Great was my astonishment, and yes of course I agreed.
Once the skirt is delivered, Rebecca will live a great moment of stress and doubt which insinuates itself in her mind "several ideas passed by my head, fortunately that lasted only one week.

"I remember perfectly the day she wore it; my communication manager contacted me, I was asleep, it was an afternoon, she said "Rebecca, did you see the pictures"? My heart boomed, I asked her "what pictures"? And said "Beyoncé wore the skirt" and there I let burst my joy. It was amazing, never in my early days would I have imagined making clothes for an American star."
We are in 2018 – and Beyoncé will appear at the Global Citizen Festival Mandela 100 in South Africa. For this occasion she would wear the skirt designed by Rebecca.
From now on the dream of Rebecca embraces the contours of the world, as she has just one idea in mind, making Yhebe Design a world reference brand and to dress African and global personalities, her action is a bit militant, as she adds "
I would like to show that Africa has talented women who should be encouraged and stimulated to succeed in the global market. I want Yhebe Design to be known internationally.
However, to achieve this, she knows that she must acquire maximum visibility and be present at the major fashion events.
Lea Raso Della Volta