Mylène Rosnel: "I see Antagony as if it were my dressing room and I bring it to life as the seasons go by".

Mixing men's and women's clothing to form a unisex dress code is not common in fashion and Mylène Rosnel, founder of Antagony, a brand that has been in existence since 2016, wants to "blur the codes", following a path based on simplicity, eco-responsibility and "made in France", through influences notably Japanese and Scandinavian. In the interview she gave to Feat-Y, the founder of the brand made a point of defending her commercial strategy, refusing to practice sales, the desire to design clothes that are part of the long term, but also how much the Coronavirus has pushed her to diversify her work with the production of fabric masks. Interview.

Feat-Y: Where did you get the idea to found Antagony?

Mylène Rosnel: Originally, I thought that the finishing touches on jackets and shirts were always more meticulous in men's ready-to-wear than in women's ready-to-wear. I often created my own style by picking right and left out of the men's wardrobe and mixing it with women's pieces. And I realized that I wasn't the only one doing it. A lot of women were doing it too. On the other hand, there were men who would go to the women's department and look for shirts that were a little more curved. In the end, whether a garment is for a man or a woman, it's the way you wear it that will make it more feminine or more masculine. The idea started from there, while saying: "I am going to create a checkroom which is really mixed, unisex, which is going to be appropriate as well to the man as to the woman and I am going to play on this idea of in-between". Blurring the codes between men's and women's ready-to-wear. Play on details, play on the way jackets and shirts close.
Feat-Y: What are your sources of inspiration for your collections? Is there any influence from Japan, especially designers like Comme des Garçons or Yoji Yamamoto in your collections?

M.R : Exactly. There are two great designers who inspire me a lot. Rei Kawakubo first. Maybe because she also created her own brand, which is called Comme des Garçons. The Japanese side is what inspires me a lot; in the cuts of the clothes, the philosophy of life, the art and the Zen side. Antagony is another way of thinking about fashion, of seeing things, of embracing a philosophy of life, a lifestyle. It is to say to ourselves that we look at things differently, from another angle, to take time for things. In this Japanese philosophy, I recognize myself a lot. And then there is Martin Mangiela, one of the designers I like a lot, for his creativity and discretion. He has brought a very visionary, very advanced fashion, with the idea that there is not only clothing, but also the whole concept around it, from packaging to scenography. I like the minimalist spirit of things. Going to the essential, simple, efficient and striking things.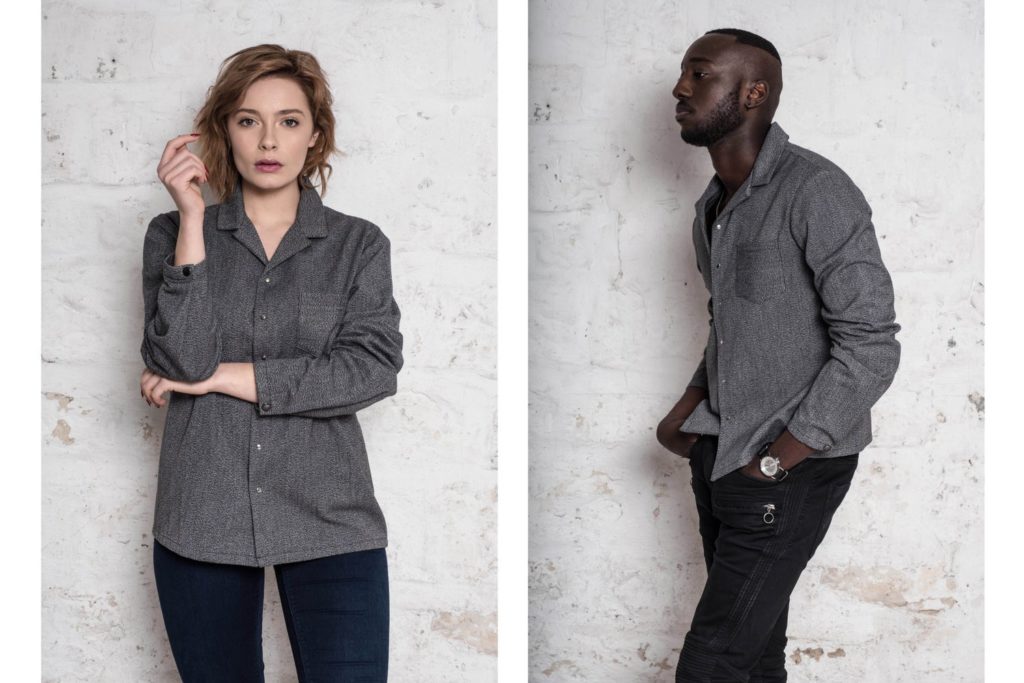 Feat-Y: Why did you adopt an eco-responsible and unisex strategy for Antagony?

M.R.: These are two values that are very close to my heart. The unisex side is for equality between men and women. For the moment, I'm creating the brand, but I don't yet have a social or committed reach. It is a value that appeals to me a lot and I would like to work for this cause. On the other hand, I have always said to myself: "if I create a brand, it is not just to create a brand". I want it to make sense. There has to be values. Hence the eco-responsible dimension. It is to say: "We make clothes. We make them in small series. We make them with craftsmen, professionals who are close". I chose to do everything in France. That makes me closer to the workshops. I find solutions with them. I learn alongside them. I wanted to show that finally, in eco-responsible fashion, you can do something stylistically. Until now, there are a lot of basics. T-shirts, jeans, vests, dresses. But there wasn't that really stylistic dimension, with a design, something that appeals. In my opinion, eco-responsibility and style are not antagonistic. As a result, it really takes on its full scope.

Feat-Y: Why don't you offer sales to your customers?

M.R.: Precisely, I wanted to inform, not in the sense of giving lessons, to explain the other side of the coin. To explain "Why do sales exist? "For there to be sales, it means that most brands have created a collection, quantities. They have a stock where not everything has been sold and most of the time, it is not stock from the current collection, but stock from previous collections that must be sold out, because stocking is expensive. With Antagony, I'm a contrarian to this movement because I create in limited series. I don't have large stocks. I can't afford to sell off a collection where prices have been calculated because each stakeholder is paid properly. Also with the Covid-19 people have taken the time to understand the cost and time of making a garment, a collection, perhaps by making fabric masks. That's why I don't propose sales but I hope to explain with kindness.

Feat-Y: How fast are the new collections launched?

M.R.: Antagony doesn't really function as a collection. What I call collections is an evolving dressing room. Let's take an example. We all have a wardrobe at home. And when we go from summer to fall, we don't take all the clothes out of our wardrobe, our chest of drawers, our dressing room. There are pieces that we will keep, that we will marry with other pieces, to be able to create a common thread. Antagony works the same way. There are pieces that are going to remain as timeless pieces of the brand and that are going to be declined with other materials. For example, I know that in spring-summer, I'm going to offer more shirts and t-shirts. In the fall, I'm going to start decorating jackets, jackets, teddies, coats, so that each garment is linked to the other. And that's how the story of Antagony is created over the years.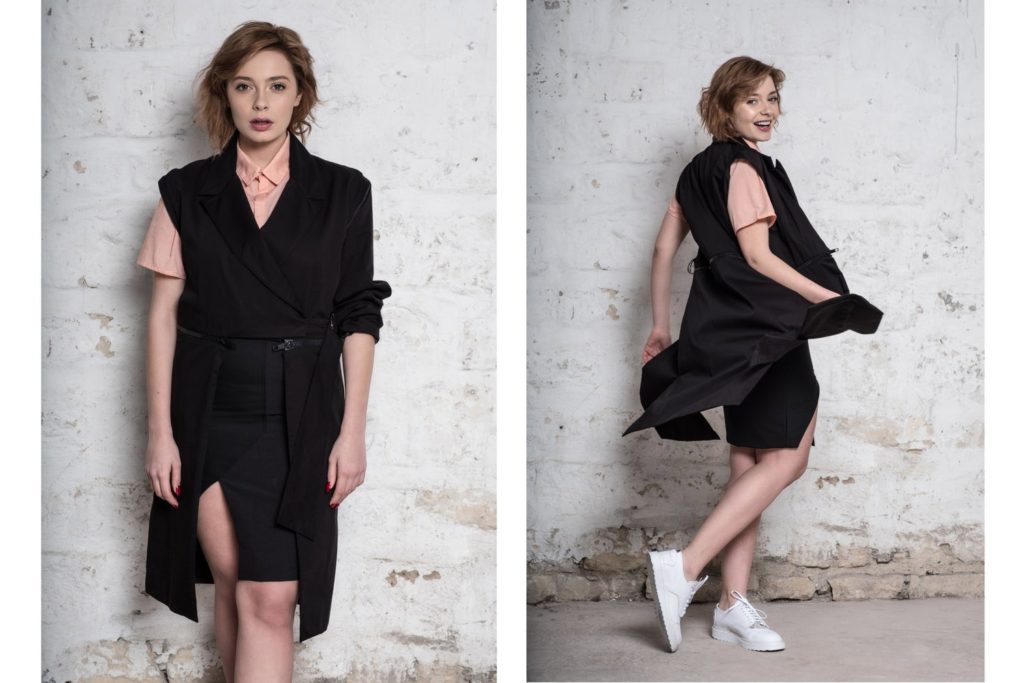 Feat-Y : Somehow you answer the question I wanted to ask you about "evolutionary dressing". Could you define this concept and its practical implications?

M.R: I am often asked how I create my collections. I'm talking about evolutionary dressing because it's very meaningful. It's different from a capsule collection. I see Antagony as if it was my dressing room and I do it alive.
Feat-Y: You indicated earlier that your production is essentially in France. Why this choice of made in France?

M.R : To create a brand that would be produced in another country where I would have to work by phone or by email, to travel once or twice a year, it's something that doesn't suit me. Producing in France is a definite cost. I didn't even think about the marketing side because at the time, made in France wasn't as high-profile as it is now. But I had really seen, or at least I hope people will believe me, this human dimension. Because I live in the Paris region, I know that there are people who are capable of making clothes very well, who have a know-how, a pedagogy too. I insist a lot on that. When you create a brand, you have to know how to surround yourself with people. It took me a long time to find people I could trust, who believed in my project, who saw the potential and who said to themselves: "I believe in it. I really like what you're doing. We work together. For me, that's priceless.
Feat-Y: With the context of the Coronavirus, have you diversified your activity, particularly through the production of masks? If yes, what material(s) do you use for your masks?
M.R : I took some time to decide whether to produce masks or not. I didn't want to sell masks and make money "thanks" to a health crisis. I talked about it with people around me, with friends, to find out their point of view. What also bothered me was that I could make masks but I didn't do anything. Why was that? And then the idea came to me to be transparent about it. Explain clearly how long it takes to make a mask, it costs so much, the supplies cost so much, and that I sell at cost price. At least it's a way to show the value of the time behind this mask production, which has been in the media. The materials I use are either end rolls from the collection or unused fabrics. I chose natural materials: cotton, linen or wool. The only exception is viscose. And for the elastics, I use a nylon material similar to tights. It's more pleasant than conventional elastics.
https://www.instagram.com/p/B_e2EuRKbbN/

Feat-Y: If you were a historical period, what would you be?

M.R.: I think I would like to be the black civil rights movement in the United States in the 1960s.

Feat-Y: If you were a material that you use for your clothes, what would it be?

M.R: That's a very good question! I never thought about it and yet I'm in fashion (laughs). I think I would be wool because it's something soft, nice, natural. And at the same time, you can have different shapes. A very fine wool stamen for costumes, like a knitted vest, wool, very comfortable.

Feat-Y: If you were an animal, which one would it be?

M.R: I would like to be a bird. An eagle.

Feat-Y: If you were a movie, which one would you be?

M.R : A movie? That's too hard. I like movies a lot. I didn't say that but I like film music a lot. One film in particular… I'm trying. I'm trying. (She thinks) There's one that touched me quite a bit, that's funny, What Men Want. It's a film where there's a woman who hears all the thoughts of men. I found the script very funny and not at all funny, not at all phoney. It really made me laugh out loud.

Interview by Jonathan Baudoin

M.R.: Yes, we'd love to know what's in other people's heads!
Further infos: