You have just finished a day's work and need to relax. Go dancing or eating? What if you were told you could do both in one place? Welcome to L'Embuscade, the first Afro-Vegan party venue in Paris, near Pigalle. Initially popular with night owls, the establishment has added a string to its bow by offering gourmet and quality dishes. Inaugurated on October 3, 2020, the formula has been a great success. Manager Patrick Ossie and chef Phoebe Dunn explain their project. Translated with www.DeepL.com/Translator (free version)
Feat-Y: How was the evolution of the After party at the restaurant?
Patrick Ossie: I first met Phoebe Dunn, a food lover and vegan herself. At the same time, I wanted to set up a catering service. I was seduced by her cooking, so I offered to give her a try, and that was it.
Phoebe Dunn: It was November 2019. There was already some food at The Ambush, but it wasn't vegan or very Afro. For my part, I was thinking of starting a vegan food-truck. So we started with an afro-vegan evening that worked well, so we decided to create the restaurant here.
P.O.: At the beginning, it was a test phase with our relatives. We wanted to make the restoration official in March, but it fell during the confinement. During this period, we still launched the take-away service.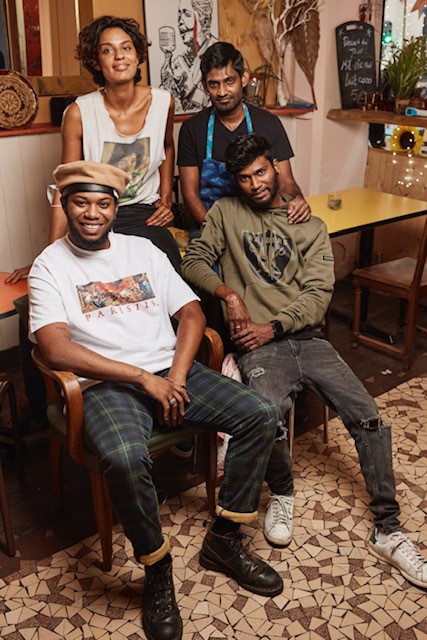 Feat-Y: Has this addition attracted other customers?
P.O.: Totally! Basically, L'Embuscade is best known for its cocktails, DJs, and the occasional Afters. There are also a lot of non-vegans who come to eat.
P.D.: That's how you tell yourself that you've won! Sometimes, on a table of four clients, there is only one who is vegan.
P.O.: And these friends come back without the person who advised them the place! The dishes are very gourmet, that's what attracts people.
P.D.: The cuisine is as much appreciated by the French as by African people, it makes us really happy.
Feat-Y: What are your culinary inspirations?
P.D.: We have fun, we discover, we do research to revisit recipes. For example, one of our latest discoveries is fonio, one of the oldest cereals. This food is very rich in fiber and gluten-free: we've done a lot of experiments with it, we can offer it as a couscous.
P.O.: For now, we are exploring the known dishes of Central Africa, West Africa, then we will go up gradually towards the East and the North.
P.D.: By the way, for our weekend brunch, we were inspired by the tajine, for a sweet/salty mix.
Feat-Y: What made you decide to experiment with Afro-vegan?
P.D.: We didn't want to deprive ourselves of African food: we can enjoy many dishes without meat. The style of music of the Ambush is often African, or Caribbean, so it was obvious to marry these two elements.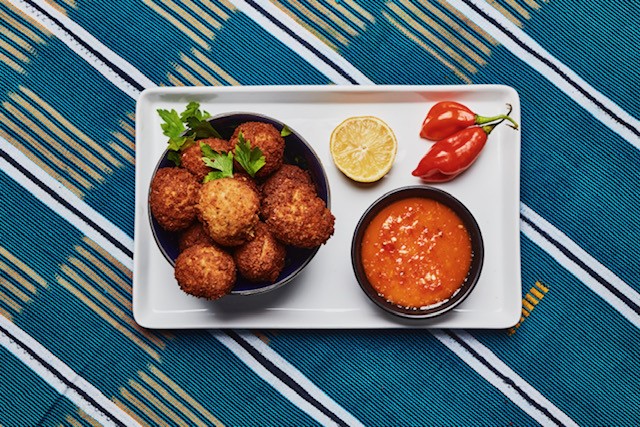 Feat-Y: We know that livestock farming produces more CO2 than transport. By extension, is proposing vegan cuisine also a way to oppose global warming?
P.O.: Yes, Phoebe introduced me to the ethical aspect of veganism, and I was interested in the health and performance aspects of veganism..
P.D.: I became a vegan for animals, then once we start thinking about what we put in our bodies, the rest follows. Being conscious of something is not only for Europeans. We want to show that racialized people are also engaged and that we are not vegan just for the hype. As far as climate is concerned, we can't do mileage 0, but we try our best to work with local products and ethical African farmers.
Feat-Y: If a non-vegan person stops at the Ambush, what dish would you recommend?
P.D.: Our yassa! Usually this dish accompanies meat or fish. It's quite vinegary, with white or yellow onions. I use zucchini, carrots, corn, and braised eryngii mushrooms, which have the texture of chicken. We also make burgers and hot dogs, with an African element.
Feat-Y: Do you have plans?
P.O.: It would take a hundred restaurants like this one!
P.D.: We would like to be invited to more Afro-vegan events, where people come to learn and open their minds. The important thing is to also be aware of the way we consume today.
Interviewed by Mélanie Domergue
more infos : The Ambush opens its doors from Tuesday to Saturday, from 11 a.m. to 10 p.m. (until 2 a.m. excluding COVID). A free tasting to discover Afro-Veganism is offered every Wednesday, from 5 to 6 pm. Brunches are organized on Saturday and Sunday from noon to 4 p.m. (upon reservation). The delivery service has also resumed. Menus vary between 6,90 € and 16,50 €.
website : https://lembuscade-restaurant-paris.eatbu.com/?lang=fr
Facebook : https://www.facebook.com/Lembuscade-387211154705824/
Instagram : https://www.instagram.com/lembuscadepigalle/