Notice to gourmets: the very first Halle Gourmande in Saint-Lô will open its doors on April 8, 2021! Mathilde Sengier sees her dream come true. After having created Le Choix de la Reine (delicatessen, restaurant, tea room, caterer), the adventure continues with this brand new place! The program is to find in one place where to eat and buy food, while taking care of oneself and the planet. Local and homemade products should delight the taste buds of the inhabitants of the St-Louis agglomeration. A Zestecampaign is underway to finance the steam oven, the oil mill, the pasta machine, as well as the drive and the website.
Feat-Y : What are the assets of the Queen's Choice?
Mathilde Sengier: I choose all my producers and artisans. The delicatessen products are tasted and selected with care, from direct sales to producers. The offer varies from time to time. As for the restaurant, we are committed to homemade food and resources from local producers. Our menu is inspired by world cuisines, a sign that we can travel easily with what is close to home!
Feat-Y: Where did the idea for this Halle Gourmande come from?
M.S.: We used to organize brunches on Saturdays. One day, a client asked me to do the brunch for her wedding, and one thing led to another and I became a caterer! I managed to develop my business little by little, and to gather a clientele around a strong ethic, by sharing the story of the people I work with, and the products I transform. While I was looking for premises to set up my business, I was told about a former Leader Price of 1,000 m², of which 500 m² were occupied by the new owner to create his natural pharmacy project. He was looking for someone to use the remaining space, so I jumped at the chance!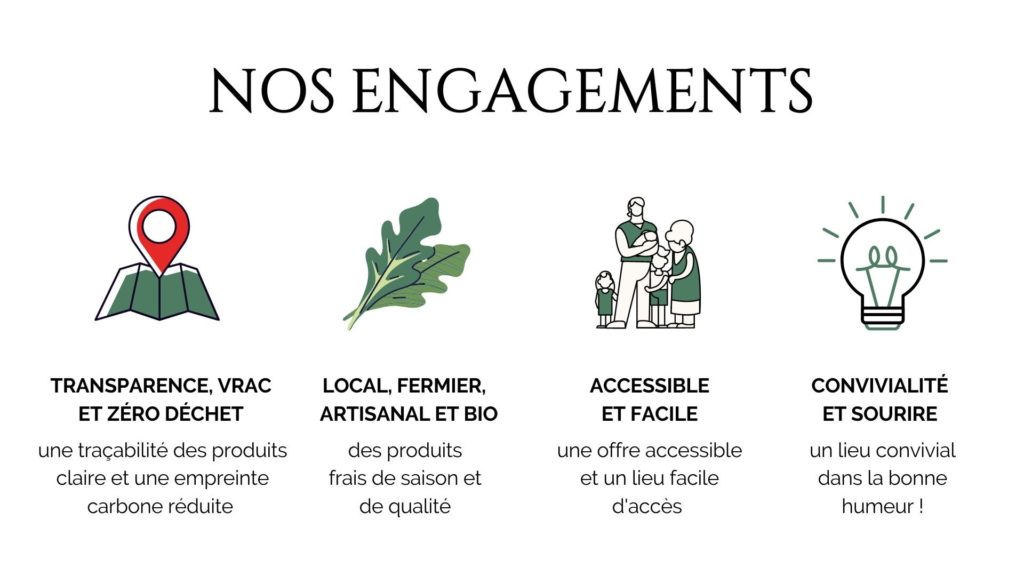 Feat-Y : What are its specificities?
M.S.: It will be a closed circuit, since what is bought at the grocery store can also be consumed at the restaurant. Customers will be able to discover our products in several states: fresh, in the kitchen, and even in Click & Collect. For us, nothing is lost, everything is transformed! Moreover, we plan to make home-made delicatessen, with home-made muesli in bulk, for example. As far as waste is concerned, we produce little because we sort it. We are in the process of finding outlets for our peelings: compost, donation to animals, etc.
Feat-Y: How will it work?
M.S.: I want it to be a very lively place! Considering what we are going through right now, I want to hear laughter, see people toasting together, and that we can sit down as soon as possible, while having an answer to all our food needs. The building consists of a grocery store, a catering area with a display case (cheeses, charcuterie, desserts), and a bar. There are sofas in front of a large bay window, an ideal corner to listen to music whenever you can, without forgetting the restaurant. From 9 am to 7 pm, people will be able to take the time to gather and share. Moreover, animations will make live this Halle Gourmande. A friend of mine, a bookseller, will make a selection of cookery books and will organize book signings for her authors. I also contacted some associations to propose them to use the premises for their general assemblies.
We work with about 50 local producers, so we hope to organize a different animation every two weeks around the kitchen! We will also have "Cheese and Wine" and "Cheese and Cider" evenings. A wine expert will make a selection of natural, organic and biodynamic wines. Some cheeses will come directly from producers and others from a cheese ripener friend. Finally, once the Click & Collect site is open, we will also offer batch cooking, i.e. baskets containing all the farmers' groceries, a note on their products and our recipes.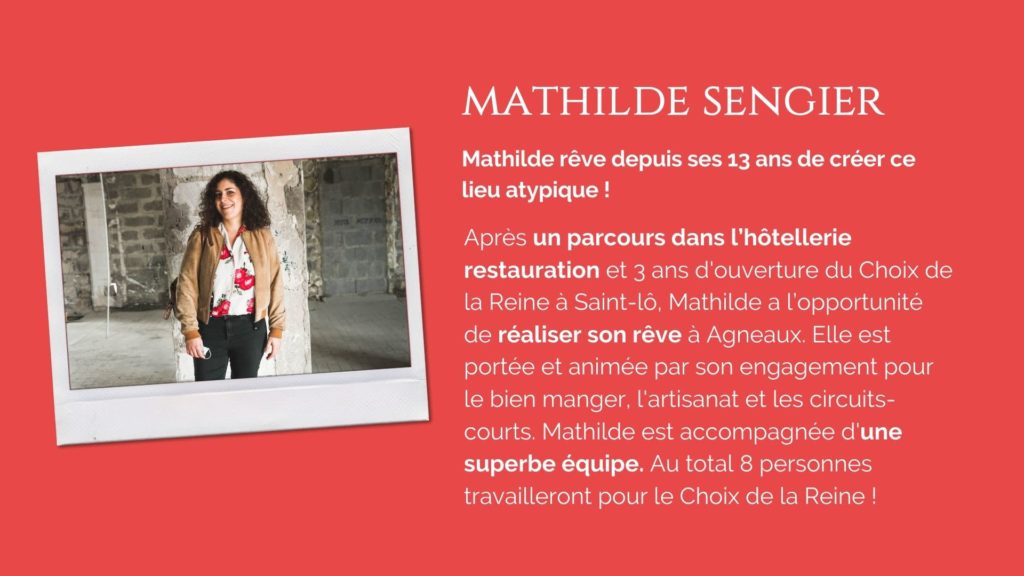 Feat-Y : Did the current context impact the realization of this project?
M.S.: It was a long-standing wish! Nevertheless, it was refined with what happened. By the end of 2019, I had already discovered the space, and I was starting to think about its layout. March 2020 came with its share of questioning, but as a great optimist, I still believe, because I know the health crisis will end. This idea may have helped me build my project better. Before, I wasn't really used to putting my ethics forward: doing local, farm and organic food is normal for me, because it's also what I eat. However, exchanges may not be allowed with customers. We have therefore decided to provide customers with small cards presenting the products, along with photos of the farmers. This way, we will be totally transparent about the traceability!
Interviewed by Mélanie Domergue
Infos :
Site internet : https://lechoixdelareine.fr
Zeste Fundraising Campaign: https://www.zeste.coop/fr/halle-gourmande-choix-de-la-reine